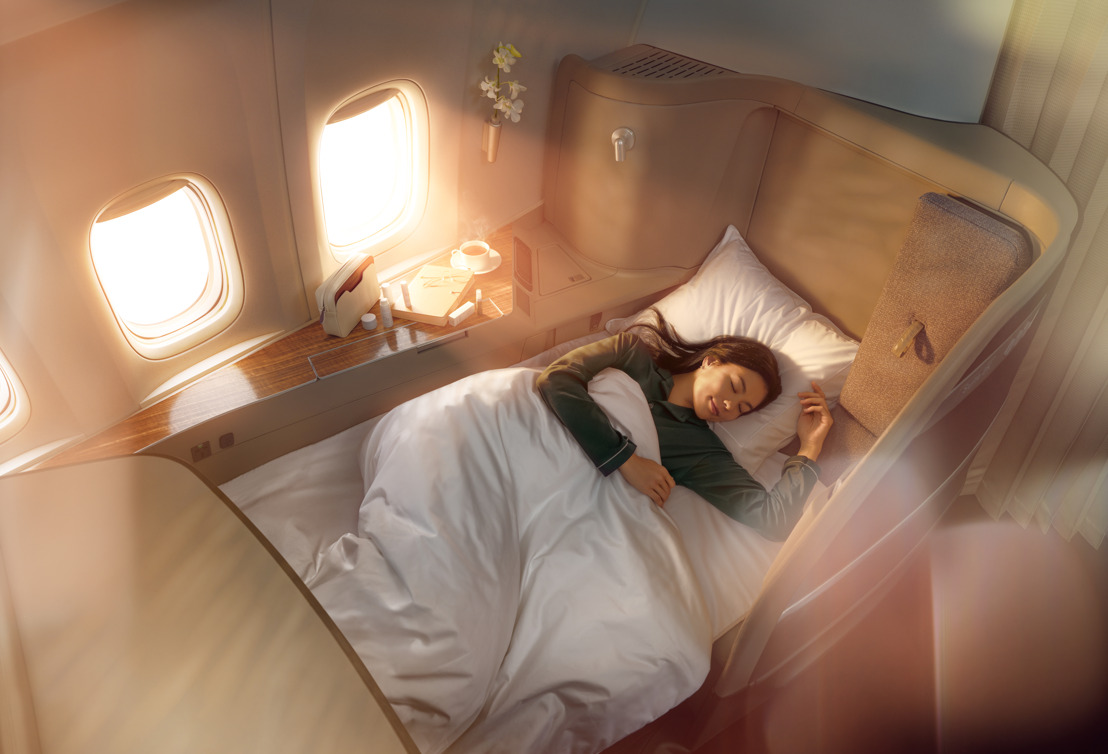 A Sense of Harmony
Enjoy a more bespoke, sensory journey with Cathay Pacific's enhanced First and Business Class offering
Friday, November 15, 2019 —

Cathay Pacific is indulging passengers with an elevated premium travel experience. An array of thoughtfully chosen enhancements to the service, soft products and culinary offerings are rolling out on board its First and Business Class cabins. These enrichments are designed to offer passengers a more holistic, sensory experience that begins from the moment they begin their journey.

Premium passengers can now enjoy a new, more bespoke First Class customer journey centred on enjoying inspired flavours, calming fragrances and refined textures whenever they travel. Exquisite bedding and amenities along with wellness options and tableware have all been elevated with new and enhanced offerings.

Meanwhile, Business Class travellers can bask in an enriched sleep proposition that includes newly introduced and greatly enhanced bedding and slippers, ensuring passengers arrive at their destinations refreshed and ready for what awaits them.

At the heart of Cathay Pacific's elevated premium experience is a new collaboration with Bamford. The luxury UK lifestyle brand, renowned for its ethical and sustainable principles, has designed a range of exclusive amenities, travel kits and plush bedding for the airline's travellers in both cabins that are certain to delight the senses.

Cathay Pacific General Manager Customer Experience and Design Vivian Lo said: "We are incredibly excited to be unveiling many wonderful enhancements in our First and Business Class cabins, and to have Bamford, a renowned leader in sustainable luxury, as the cornerstone of our premium inflight experience.

"Earlier this year, we launched our new brand direction 'Move Beyond' with the goal of continuously exceeding our customers' expectations at every stage of their journey. These enrichments to the products and service in our premium cabins are a resounding expression of that commitment and of our belief that every journey is our customers' most important one. All of these enhancements have been made with our customers in mind by listening to their feedback and ultimately giving them more reasons to fly with us."
All in perfect harmony
The epitome of sophistication and comfort, the elevated Cathay Pacific First Class begins as soon as passengers enter the cabin with a new service moment in the form of a welcome reception tray. This includes a personalised welcome note along with a hot towel and a glass of refreshing sparkling jasmine silver needle tea from another of our partners, JING.
Wellness also extends to the menus, which now feature it as a core pillar of the First Class dining experience along with brand new recipes. These range from lighter options for the main and breakfast meals to healthy alternatives such as superfood bowls and lighter protein side dishes. Teas from JING as well as cold pressed juices from Bless that feature metabolism-stimulating ingredients are also offered before breakfast to help passengers wake up refreshed.
All these dining enhancements are served on a new suite of contemporary tableware from renowned brands across the globe, including chinaware from Noritake, cutlery from Robert Welch and full-size wine glasses from Riedel.
Customers can also enjoy refreshed amenities and bedding from our key partner Bamford. Added to the First Class Experience are a cosy 600-thread-count, 100 percent sustainably sourced cotton mattress and duvet, a soft full-size pillow, and branded male and female amenity kits featuring natural skincare products presented in glass bottles. The brand's products also feature in the onboard washrooms and at select lounges worldwide, while the brand's best-selling Botanic Pillow Mist is a key feature of Cathay Pacific's new turndown service.
All these elements come together to relax the mind, body and spirit and give customers a complete, personalised journey as lavish as any experience they would enjoy on the ground.
A sublime sensory experience
Passengers travelling long haul in our Business Class cabins can now settle in for the evening with an even more satisfying sleeping proposition expressed through a completely new range of bedding developed by Bamford.
Particular highlights include a soft mattress topper along with a larger, plusher sleeping pillow and premium-quality slippers – all new additions that have been highly requested by our passengers.
This elevated long-haul Business Class experience is further supplemented by a new, premium 400-thread-count pillowcase and a two-piece duvet, both made using 100 percent sustainably sourced cotton. Passengers travelling in Business on regional flights, meanwhile, will receive a new day blanket and a plush pillow.
Bamford has also put together all new branded Business Class amenity kits that will roll out progressively from 1 December. The unisex kits will be available in four colours that will rotate throughout the year.
Together with our refreshed long-haul Business Class dining concept that completed its rollout earlier this year, passengers can look forward to a complete sensory experience whenever they fly with us.
Cathay Pacific also recently unveiled a huge inflight entertainment expansion, introduced all-new long-haul Economy Class menus curated by renowned Hong Kong restaurant group Black Sheep Restaurants, and relaunched its popular Betsy Beer, which is now available to passengers in all cabins.
All these enrichments to the customer experience reflect the airline's ceaseless dedication to fulfilling its Move Beyond brand promise and cementing its position as the world's greatest service brand.