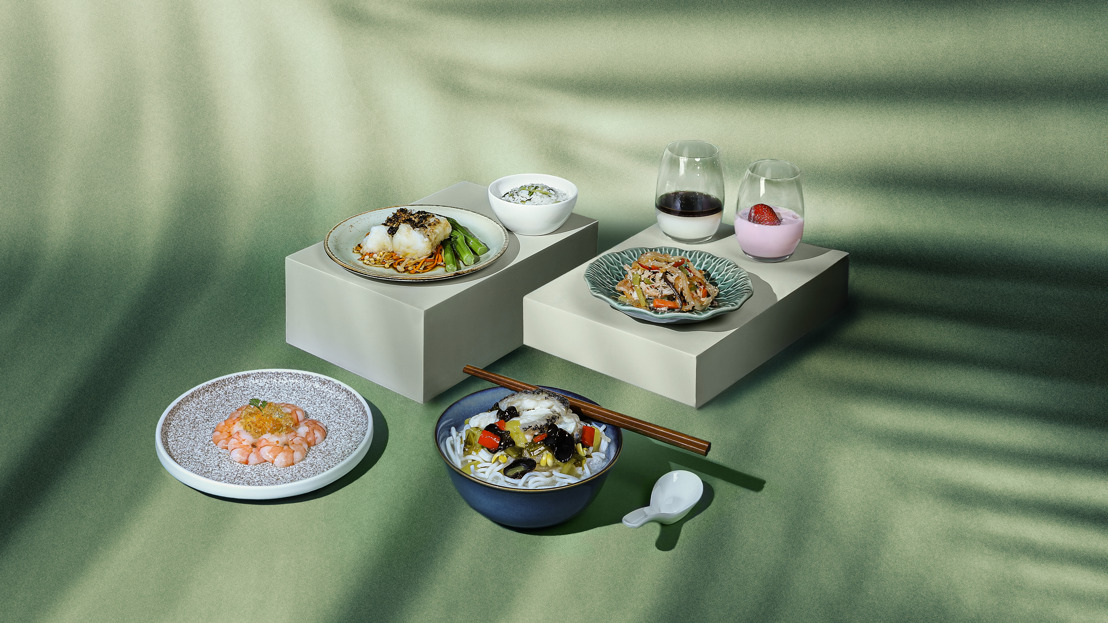 Cathay Pacific brings more exciting 'Hong Kong Flavours' to the skies
Hong Kong's home carrier partners with Michelin-starred restaurant Duddell's to celebrate the city's gourmet culture with a taste of home at 30,000 feet
Cathay Pacific is bringing new delights to its inflight "Hong Kong Flavours" concept with thoughtfully designed menus created together with Michelin-starred local restaurant Duddell's to celebrate Hong Kong's culinary heritage.
Both Cathay Pacific and Duddell's are home-grown brands and renowned leaders in the hospitality industry, with the collaboration born out of a passion for food and an appreciation of the city's gastronomic traditions. The promotional menus bring a fresh and curated interpretation of much-loved local specialties, highlighting the two brands' commitment to elevate the food culture of Hong Kong.
Cathay Pacific General Manager Customer Experience and Design Vivian Lo said: "We are very excited to partner with acclaimed restaurant Duddell's, who shares our core values of thoughtfully curated dining with warm service, to showcase this new culinary experience for our premium customers. We want to deliver delightful dining experiences for our customers by focusing on the details that matter, and this ethos is at the heart of every single dish we developed together.
"As Hong Kong's home airline, we place great importance on serving our customers with authentic local culinary delights through our 'Hong Kong Flavours' concept, while also showcasing the diverse range of cuisines our city has to offer. By partnering with renowned Hong Kong restaurants, we hope to give our customers an unforgettable introduction to our city's culinary offerings and a comforting reminder of the taste of home."
JIA Group Chief Executive Officer Yenn Wong said: "We have always wanted to partner with Cathay Pacific, one of the most prevalent service providers in the travel industry and a renowned airline. Coincidentally, Duddell's, one of our popular outlets amongst tourists, has an outpost at Hong Kong International Airport, making the partnership even easier as having an outpost at the airport aids in spreading and fostering Hong Kong's food culture to the international crowd.
"As Duddell's serves Cantonese cuisine, the theme is unquestionably Hong Kong-inspired. We want to create and bring Hong Kong's traditional flavours, with easy access, to different parts of the world. The team has curated an extensive menu that caters to First and Business class, from appetisers through to desserts."
Hong Kong Flavours
A stalwart in the Cathay Pacific dining proposition, "Hong Kong Flavours" not only showcases some of the city's most popular and iconic dishes, but through its partnerships also reflects Cathay Pacific's aspiration to connect its city to the world by means of these culinary creations.
First class
Cathay Pacific's First and Business class customers travelling on select flights departing from Hong Kong can enjoy the new promotional menus with refreshed selections of dishes throughout the year.
First class customers begin their culinary journey with one of a selection of appetisers, among them chilled abalone and cucumber with black vinegar (香醋青瓜凍鮑魚), or minced pork with mixed vegetables and pomelo, served with lettuce wraps and prawn crackers (柚子雜菜豬肉碎生菜包伴蝦片).
They then move on to a choice of exquisite main courses. The red braised Iberico pork belly with radish (紅燒西班牙黑毛豬腩肉) takes its cue from the Shanghainese classic braised pork belly and features premium Iberico pork belly simmered in a sweet, sticky glaze of soy sauce, sugar and our chef's special blend of Chinese spices. The wok fried lobster in white pepper sauce with spring onions and ginger(白胡椒薑蔥炒龍蝦球) is inspired by the Chinese banquet classic and crowd favourite dish in local seafood restaurants, with a nod to the Singaporean specialty of white pepper crab. Pair this with a glass of Champagne for extra indulgence.
The meal concludes with dessert. One of the highlights is a light, refreshing and cooling chrysanthemum and longan jelly (菊花桂圓糕). The dessert combines the delicate, floral aroma of chrysanthemum flowers and the mild sweetness of dried longan, both of which have been used in Traditional Chinese Medicine for their health-promoting properties.
Business class
Customers flying in Business class will enjoy newly designed starters that embrace an interesting twist on some popular Chinese classics. Among these are drunken prawns with aged Huadiao wine (陳年花雕醉蝦), and shredded chicken and jellyfish salad with sesame dressing (涼拌芝麻海蜇手撕雞).
For the main course, customers can enjoy dishes such as steamed halibut with cordyceps flowers, aged mandarin peel and preserved black olives(蟲草花伴陳皮欖角蒸比目魚), which is inspired by the cuisine of Shunde in Southern China. Steaming helps the fish retain its sweet and delicate flavour, while the cordyceps provide a slightly chewy bite. The barramundi fillets with pickled mustard greens in hot and sour rice noodle soup (香辣酸菜盲曹魚湯米線) is another delicious option that is available throughout the flight as a light meal or snack, and is a lighter interpretation of Sichuanese spicy and sour poached fish with the addition of silky smooth rice noodles.
The culinary experience comes to an indulgent finale with a choice of dessert. Particular standouts include ginger milk pudding (薑汁奶凍) that draws from the Cantonese dessert of ginger milk curd, or strawberry yoghurt pudding(士多啤梨乳酪布甸) that takes its cue from the sweet, tart Beijing-style yoghurt.
About Duddell's
Duddell's is a social and cultural destination for people who have an active appreciation for the arts. Located on the historic Duddell Street in the heart of Central, Duddell's boasts chic and relaxed interiors from designer Ilse Crawford, that are as noteworthy as the exhibitions on the walls. Duddell's was designed to feel like guests have been welcomed into the home of a great art collector – one that also happens to have an in-house Michelin starred culinary team. Open to all enthusiasts, Duddell's features a year round art program of world class exhibitions, discussions and more. Now nine years old, Duddell's has firmly cemented its position as a true Hong Kong brand – one that consistently receives media coverage in leading international titles such as CN Traveller, The New York Times, Financial Times and Forbes.