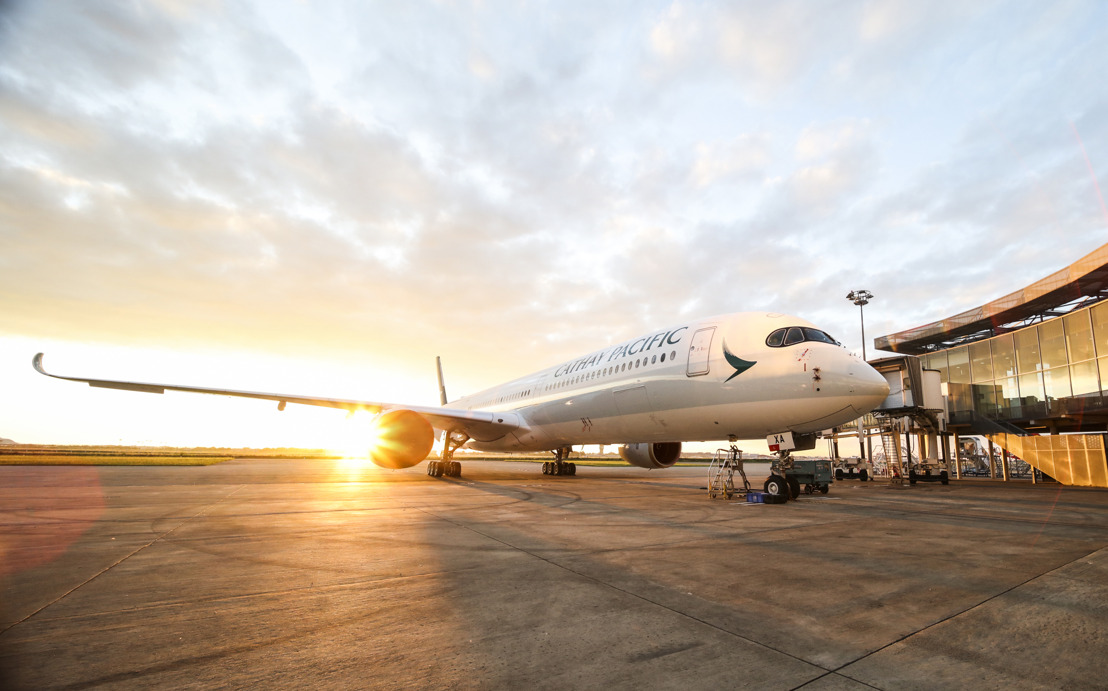 Hong Kong's first Airbus A350-1000 comes home
Aircraft is the catalyst for Cathay Pacific to launch new destinations and provide an enhanced travel experience
Tuesday, June 19, 2018 —

Cathay Pacific welcomed the newest member to its fleet as the first of its 20 Airbus A350-1000 aircraft prepares to fly from Toulouse, France to the airline's home of Hong Kong today on a blend of biofuel.

Eight of these aircraft will be delivered this year with the remainder to arrive by 2021. After initial rounds of regional services, starting with its first commercial flight to Taipei on 1 July 2018, the A350-1000 will launch Cathay Pacific's new service to Washington DC on 15 September 2018, which at 8,153 miles makes it the longest on the airline's network.

This technologically-advanced aircraft will also serve Madrid, Tel Aviv, Amsterdam, Manchester and Zurich from the coming winter.

Cathay Pacific Chief Customer and Commercial Officer Paul Loo said: "We already have one of the youngest long-haul fleets in the sky, and with the arrival of the A350-1000, our fleet is only going to get younger.

"The aircraft follows the successful entry of the -900 variant which has enabled us to expand our long-haul network at a near unprecedented rate, providing our customers with a wider range of non-stop travel choices, while at the same time strengthening Hong Kong's position as Asia's largest international aviation hub.

"The -1000 is very similar to the -900 in terms of its operational excellence. It has an incredible range, is remarkably fuel efficient and quiet, provides customers with an unsurpassed cabin environment and has extremely attractive operating economics."

In just two years, Cathay Pacific has opened non-stop routes to a slew of destinations served by the A350 fleet, including Barcelona, Brussels, Christchurch, Copenhagen, London Gatwick, Tel Aviv, and, most recently, Dublin. A new A350-900 service to Cape Town will be launched in November.

Powered by the latest technology Rolls-Royce Trent XWB-97 engines, the A350-1000 has considerable freight capacity, an important characteristic for Cathay Pacific, one of the world's largest cargo airlines.

Eric Schulz, Airbus Chief Commercial Officer, said: "We are proud to deliver the A350-1000 to our long-standing customer Cathay Pacific. The aircraft brings major advantages in fuel and cost efficiency along with unrivalled passenger comfort. The combination of the world's newest wide-body and Cathay Pacific's world famous in-flight service will ensure that the airline can strengthen its position even further as one of the world's leading international carriers."
Comfort and well-being taken to a new level
The largest variant in the A350 family, Cathay Pacific's A350-1000s will carry a total of 334 passengers across its Business, Premium Economy and Economy Class cabins, 54 more passengers more than the airline's A350-900s.
Passenger comfort was at the heart of our team when they designed the cabins for this new aircraft. Featuring a brand-new Economy Class seat with a larger, higher definition personal television, and an advanced inflight entertainment system and LED mood lighting, the aircraft's cabins are also 50% quieter in perceived levels of external noise.
Furthermore, enhanced Wi-Fi connectivity means passengers can remain connected throughout their journey.
Meanwhile, a higher cabin pressure supplies more oxygen to lower the effective cabin cruising altitude to 6000 ft on the A350-1000, which reduces passenger fatigue and improves their well-being.
Fuelling a greener future
Cathay Pacific has been at the forefront of many initiatives to reduce the impact of greenhouse gas emissions and like with delivery of its 22 A350-900 aircraft already in operation, all 20 A350-1000s will be flown from Toulouse, the home of Airbus, to Hong Kong using a blend of alternate jet fuel.
Achieving carbon neutral growth from 2020 is an important target for Cathay Pacific and using alternative fuels is one of its pillar initiatives. Compared to traditional jet fuel, sustainable biofuel can reduce life cycle greenhouse gas emissions by up to 80%.
Cathay Pacific is also the world's first airline to invest in biofuel technology. In 2014 it became an equity investor in US-based Fulcrum BioEnergy Inc., which focuses on turning municipal waste into sustainable aviation fuel.
In May 2018, Fulcrum broke ground on its first commercial-scale plant in Nevada. When the plant begins operations in 2020, it will produce over 10 million gallons of fuel for airlines including Cathay Pacific each year.
#FlyCathayA35K #FlyCleaner #FlyBetter #FlyFurther