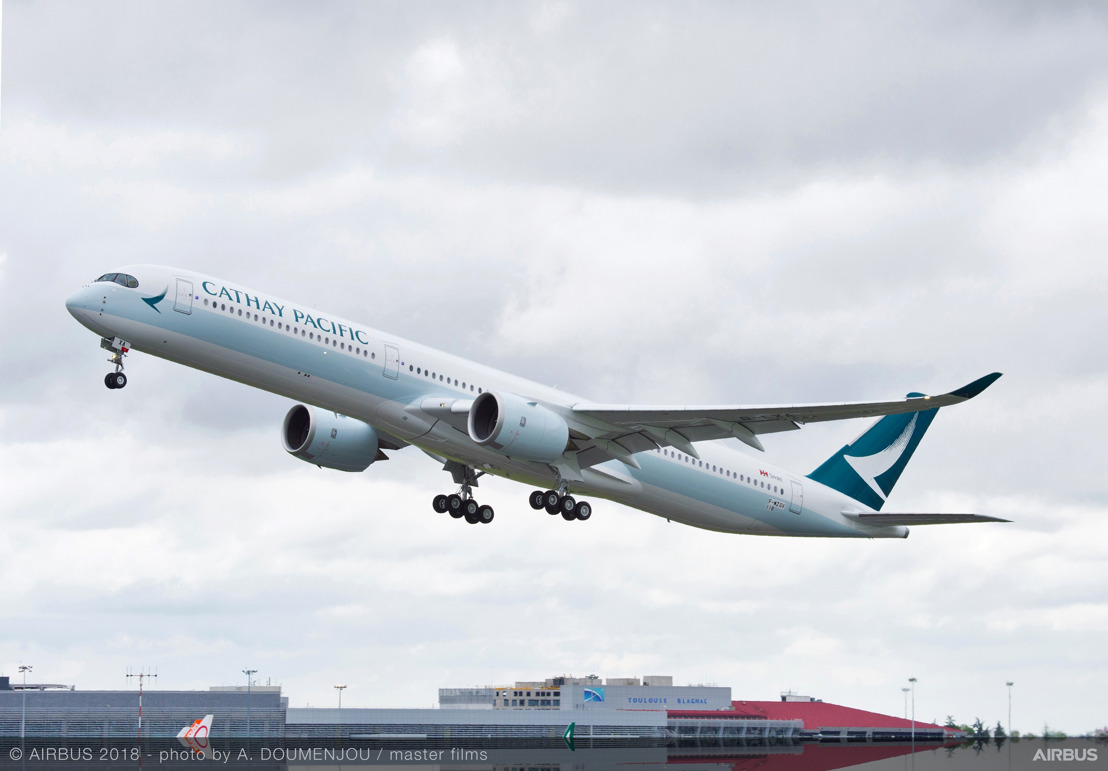 Cathay Pacific to fly new aircraft home using alternative jet fuel
Airline committed to achieving goal of carbon neutral growth from 2020
Monday, June 4, 2018 —

Cathay Pacific is underscoring its strong commitment to eco-efficiency by planning to use a blend of alternative jet fuel to fly its new fleet of Airbus A350-1000 aircraft home to Hong Kong.

The airline has 20 of these technologically-advanced aircraft on order for delivery over the next four years. Its first A350-1000 will depart Airbus headquarters in Toulouse on 19 June. A further seven aircraft are due for delivery by the end of 2018.

Cathay Pacific Chief Executive Officer Rupert Hogg said: "We have been at the forefront of many initiatives to reduce the impact of greenhouse gas emissions. Achieving carbon neutral growth from 2020 is an important target that we take seriously and using alternative fuels is one of the key strategies in helping us to do so. We will continue to support the development and usage of biofuel to reach mainstream commercial viability."

Cathay Pacific operated the longest biofuel delivery flight at the time when taking delivery of its first Airbus A350-900 aircraft in 2016. Twenty-two aircraft of this type have so far been delivered with a 10% blend of alternative jet fuel in their tanks.

Compared to traditional jet fuel, biofuel can reduce life cycle greenhouse gas emissions by up to 80%.

Cathay Pacific's A350-1000 delivery flights using blended biofuel are supported by its partners, Airbus and Total.

Frederic Eychenne, Head of New Energies at Airbus, said: "Through the use of the A350-1000 and low carbon fuels, we continue to demonstrate our commitment to support the aviation sector and our customers to reduce their carbon footprint."

Cathay Pacific is the world's first airline to invest in an aviation biofuel company. In 2014, it became an equity investor in US-based Fulcrum BioEnergy Inc., which focuses on turning municipal solid waste into sustainable aviation fuel.

In May 2018, Fulcrum broke ground on its first commercial-scale plant in Nevada. When the plant begins operations in 2020, it will produce over 10 million gallons of fuel per year. Cathay Pacific will be one of the first airlines to fly on fuel produced from this facility.