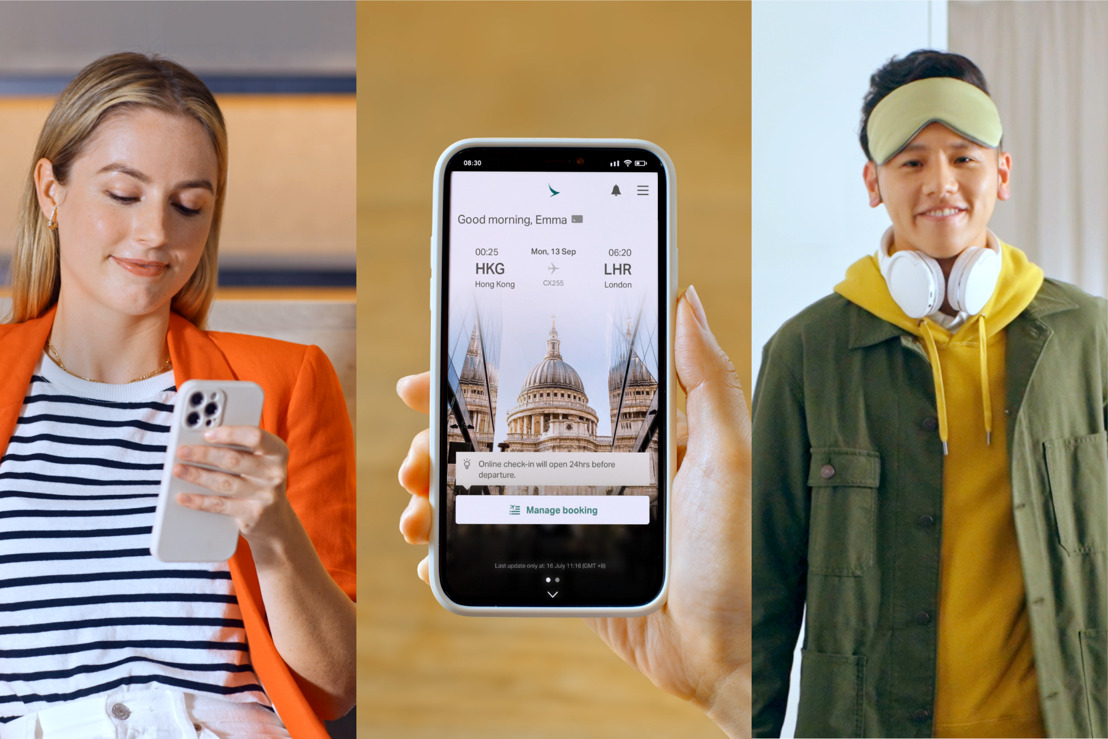 Travel made simpler, easier and better with Cathay Pacific
Customers can enjoy an intuitive digital experience designed around them whenever they travel
Thursday, October 28, 2021 —

Customers planning their next journey with Cathay Pacific can do so with even greater confidence and assurance thanks to the airline's intuitive digital experience. While cross-border travel remains challenging, Cathay Pacific has introduced an array of innovative digital products that enhance every part of the customer journey, from booking to departure to arrival.

Whether providing greater protection and assurance, streamlining the implementation of health and safety measures, or adding convenience both in the air and on the ground, Cathay Pacific's digital experience ensures that customers' journeys will be simpler, easier and better.
Book easily – with all the information needed
Customers trying to plan ahead can book with peace of mind using Cathay Pacific's intuitive booking platform, which provides them with all the latest information about where the airline is flying, what restrictions are in place and what they need to know to travel. With the airline's flexible ticketing policies, customers can fly worry free with the freedom to make unlimited changes to new tickets without the usual change fees. In addition, they have the flexibility to buy tickets to any destination using a combination of miles and cash.
For more information on Fly (worry) free, visit here.
Chat with us, anytime
Cathay Pacific has introduced 24/7 customer support with live chat on its website and dedicated agents on its social platforms* to get customers answers whenever they need them, whether they're questions about flight status, seat upgrades, additional baggage allowance, redeeming Asia Miles and much more. Meanwhile, the airline's virtual assistant, Vera, can help customers select a new flight in just a few taps if there is a disruption to their flight.
For those who prefer to call, Cathay Pacific has consolidated its service lines in Hong Kong into a single contact number, so it's easy to get in touch.
Contact us here.
*Only available in certain markets
Choose your meal before you fly
When travelling with Cathay Pacific in Business and First class, customers can enjoy the Choose My Meal service to explore their inflight menu options and reserve their favourite meal long before they step onboard. By simply logging in to Manage Booking, customers can plan their perfect meal starting from 10 days before their departure – and can even change their mind as many times as they like up to 24 hours before their flight.
Discover more here.
Check-in, chill out
With Fly Ready*, customers can upload their COVID-19 test results and other important health documents for verification before they arrive at the airport. Not only does this make check-in even more simple, seamless and straightforward, but also it gives them more time to relax before their flight.
*Fly Ready is currently only available to people flying to Hong Kong from select destinations.
Contactless boarding
Cathay Pacific is striving for minimal contact during check-in and boarding to safeguard the wellbeing of its customers and people. Hong Kong International Airport's e-Boarding Gates use biometric technology to scan passengers' faces, making boarding a completely contactless, streamlined experience.
Learn more here.
Stay connected in the air
It's easy for customers to stay in touch when they fly with Cathay Pacific. High-speed Wi-Fi is available on all Airbus A350 and A321neo aircraft, and is being progressively rolled out on the airline's A330 and Boeing 777 fleet, enabling customers to browse the internet, chat with friends or catch up on news around the globe so that they can land informed and in touch. Customers can enjoy an enhanced, mobile-first portal experience that is simple and fast, with the ability to sign in using their Cathay Pacific account. Wi-Fi passes can even be stored in their Apple Wallet for easy reference or swapping between devices.
Discover Cathay Pacific's inflight Wi-Fi here.
Find out more
For more information on Cathay Pacific's digital experience, visit here.