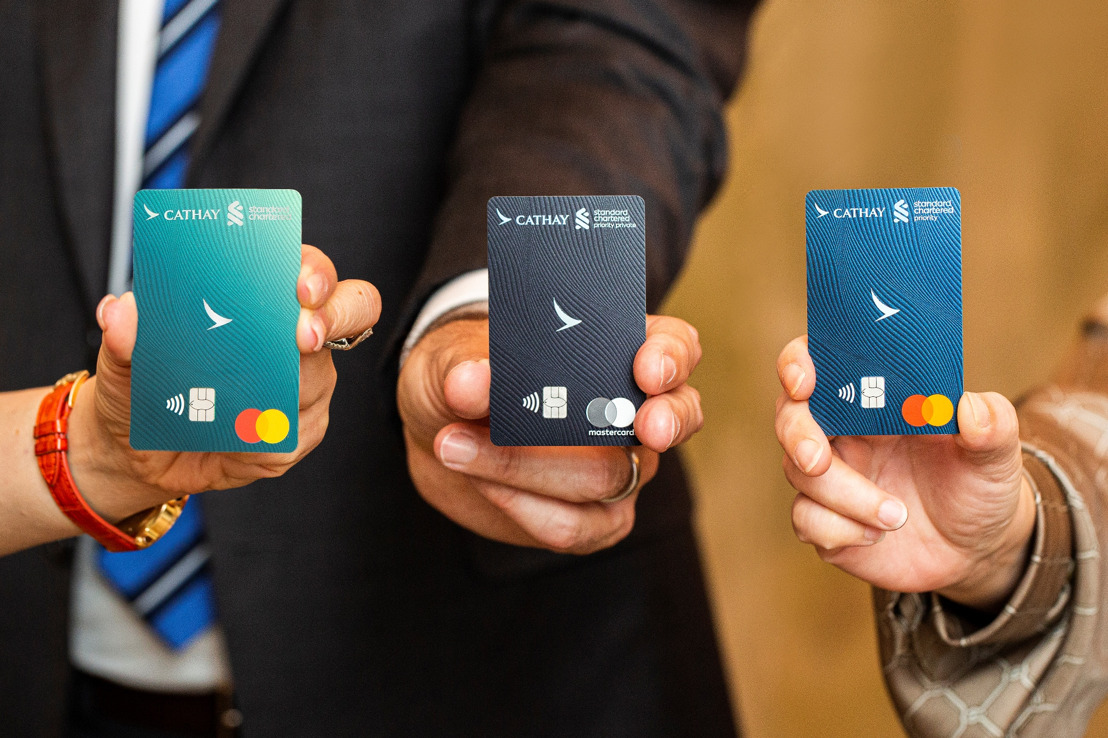 Standard Chartered, Cathay and Mastercard deepen cooperation with launch of a brand-new range of Mastercard Credit Cards
and limited offer of Marco Polo Club Silver or Gold membership
Standard Chartered Bank (Hong Kong) Limited ("Standard Chartered"), Cathay and Mastercard today announced the launch of a new range of Standard Chartered Cathay Mastercard Credit Cards with an array of exciting offers and privileges for customers who enjoy living and travelling well.
The three new cards in the series are "Standard Chartered Cathay Mastercard Credit Card", "Standard Chartered Cathay Mastercard Credit Card – Priority Banking", and "Standard Chartered Cathay Mastercard Credit Card – Priority Private", recognizing different banking segments. These cards allow customers to earn Asia Miles faster and easier than ever. Cardholders can still earn Asia Miles directly by using banking services only from Standard Chartered. Priority Banking and Priority Private cardholders can even enjoy complimentary Cathay Pacific Business Class Lounge access, priority check-in and boarding services, or limited Marco Polo Club Silver or Gold membership during the promotional period. Eligible customers can also receive up to 200,000 Miles as a welcome offer!
Today's launch expands upon the success of the only Asia Miles co-branded credit card in Hong Kong launched in 2016 by Standard Chartered, Asia Miles and Mastercard. Building on this solid foundation, the three companies are delighted to elevate this success to the next level through the launch of this brand-new range of credit cards, which will replace the Standard Chartered Asia Miles Mastercard Credit Card, offering more prestigious privileges and many travel and lifestyle features to existing and new customers.
Lay Choo Ong, Head of Consumer, Private and Business Banking, Hong Kong at Standard Chartered said, "The remarkable success of the previous co-branded card is a great example of our strong partnership with Cathay and Mastercard. The new Standard Chartered Cathay Mastercard Credit Cards, which go beyond purely mile-earning cards, have combined the privileges of Priority Banking and Priority Private with credit cards, making it the most unique proposition on the market that offersa wider range of shopping, travel, life enjoyment and banking services privileges.
"Although the pandemic has delayed many people's travel plans, customer loyalty in earning miles through credit card transactions remains high. The average annual spending of the previous co-branded card was 20% higher than the market average, while the Active Ratio from February to April this year remained at a high level of 90%. These statistics reflect the fact that many of our customers are taking advantage of this period to accumulate miles to get ready for their next journey. In the meantime, Priority Banking and Priority Private cardholders can enjoy more exclusive wealth management services at the bank, according to their banking segment."
Paul Smitton, General Manager, Customer Relationship and Retail at Cathaysaid,"We are thrilled to unveil in Hong Kong today the Standard Chartered Cathay Mastercard Credit Cards, the first of many exciting new customer offerings under 'Cathay' – a new premium travel lifestyle brand that aims to bring all we love about travel together with everyday lifestyle.'Cathay' brings together Cathay Pacific, Marco Polo Club and Asia Miles all in one place, simplifying the way our customers interact with us, including how they earn status and use miles. The Standard Chartered Cathay Mastercard Credit Cards allow customers to enjoy the best Asia Miles earn rates in town, and their miles won't expire as long as they earn or redeem at least once every 18 months. They can use their miles to redeem flights or purchase revenue tickets on Cathay Pacific and HK Express with Miles Plus Cash, as well as shop for our numerous curated products.
"These new credit cards represent the further strengthening of our relationship with our longstanding partners, Standard Chartered and Mastercard, to provide more benefits for our customers. The new card epitomises the best of premium travel experiences, providing a full range of privileged banking services and Mastercard's comprehensive acceptance network for our members to earn and use their miles with greater ease. We will be entering into a new 10-year global partnership with Mastercard on co-branded credit cards and with Standard Chartered in Hong Kong for both co-branded credit cards and earning miles through direct banking. We look forward to further building upon our collaboration with our partners through this exciting development today."
Helena Chen, Managing Director, Hong Kong and Macau, at Mastercard said, "Mastercard is pleased to strengthen its cooperation with Standard Chartered and Cathay to provide new credit card products for Hong Kong consumers who are ready to travel overseas after the pandemic, love online shopping and value their lifestyle, letting them experience seamless and convenient digital payments. On top of it all, they can also enjoy exclusive privileges and services. Mastercard's fast, secure and reliable global network gives Standard Chartered Cathay Mastercard Credit Card cardholders robust, multi-layered protection when shopping globally, and thus enjoy hassle-free travel and online shopping."
Standard Chartered, Cathay and Mastercard are all committed to environmental protection for sustainable development. The new card design adopts carbon-neutral materials, with the aim of offsetting carbon emissions during the production process and reducing the impact on the environment.
Terms and conditions apply.
To find out more: http://www.sc.com/hk/cx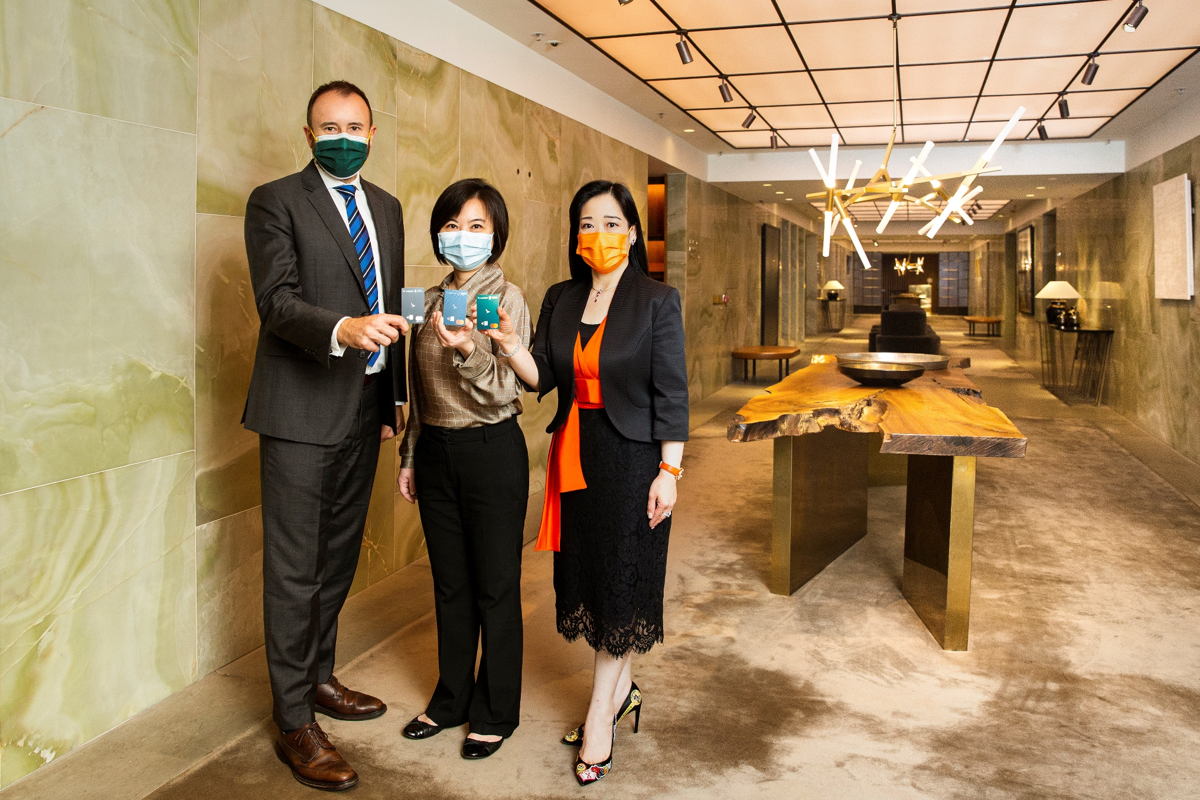 For further information please contact:
Standard Chartered
Cathy Kwong
+852-3843 0248
Cathay
Sharon Lui
+852-2747 5393
Mastercard
Karen Lo / Janus Lau
+852-2588 8319 / +852-2588 8366
[email protected][email protected]
About Standard Chartered Bank
We are a leading international banking group, with a presence in 59 of the world's most dynamic markets and serving clients in a further 85. Our purpose is to drive commerce and prosperity through our unique diversity, and our heritage and values are expressed in our brand promise, here for good.
Standard Chartered PLC is listed on the London and Hong Kong Stock Exchanges.
The history of Standard Chartered in Hong Kong dates back to 1859. It is currently one of the Hong Kong SAR's three note-issuing banks. Standard Chartered incorporated its Hong Kong business on 1 July 2004, and now operates as a licensed bank in Hong Kong under the name of Standard Chartered Bank (Hong Kong) Limited, a wholly owned subsidiary of Standard Chartered PLC.
For more stories and expert opinions please visitInsights at sc.com. Follow Standard Chartered onTwitter, LinkedInand Facebook.
About Cathay
Cathay is a premium travel lifestyle brand that brings together all we love about travel with our everyday lifestyle. The range of products and services includes flights, hotels, shopping, dining, wellness and credit cards. All our travel lifestyle offerings are designed to bring customers exciting offers, unmissable rewards, meaningful experiences and hand-picked partners. ​
Flights are provided by Cathay Pacific, the home airline of Hong Kong and a founding member of the one world global alliance. The Cathay Group also comprises HK Express, Air Hong Kong (a dedicated freighter airline) and various subsidiaries. We are a member of the Swire Group and are listed on the Hong Kong Stock Exchange (HKSE) as a public company.
For 75 years, Cathay Pacific has been connecting our home city of Hong Kong to the world. Now we're bringing that connection to more of our customers' lives. The new era of Cathay elevates their every bite, swipe, step, stay and flight to greater heights.  www.cathaypacific.com
About Mastercard (NYSE: MA), www.mastercard.com
Mastercard is a global technology company in the payments industry. Our mission is to connect and power an inclusive, digital economy that benefits everyone, everywhere by making transactions safe, simple, and accessible. Using secure data and networks, partnerships and passion, our innovations and solutions help individuals, financial institutions, governments, and businesses realize their greatest potential. Our decency quotient, or DQ, drives our culture and everything we do inside and outside of our company. With connections across more than 210 countries and territories, we are building a sustainable world that unlocks Priceless™ possibilities for all.