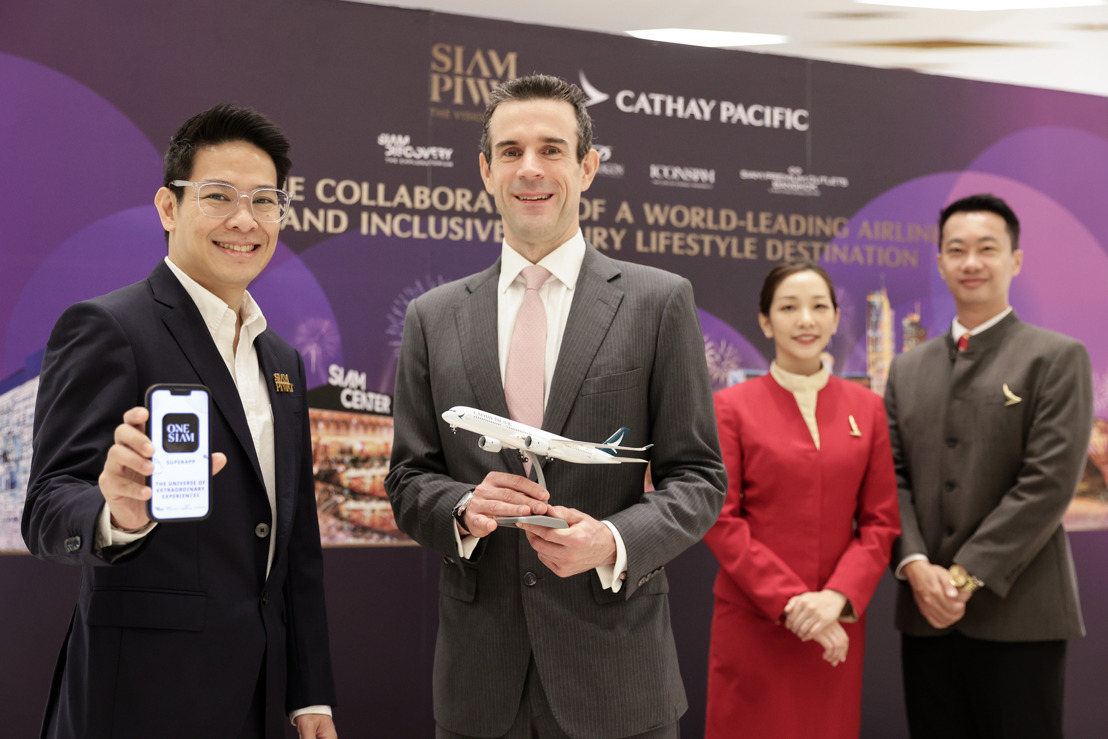 Siam Piwat partners Cathay Pacific to offer even more lifestyle benefits to members, on ground and in the air
Wednesday, July 26, 2023 —

Siam Piwat Group, a leading real estate and retail developer, owner and operator of global destinations including Siam Paragon, Siam Center, and Siam Discovery, and a joint venture partner of ICONSIAM and Siam Premium Outlets Bangkok, is partnering one of the world's leading airlines Cathay Pacific to bring even more lifestyle benefits to VIZ and Cathay members. The partnership is in line with Siam Piwat's 'Co-Creation and Collaboration to Win' strategy to further enhance its premium business ecosystem, and its aim to reinforce its 'Inclusive Luxury Lifestyle Destination' positioning.

The strategic partnership will allow VIZ and Cathay members in Thailand to enjoy two-way VIZ coins and Asia Miles conversions between the two loyalty programmes, starting from 1 August 2023. These can be redeemed for mall privileges under Siam Piwat, and travel and lifestyle privileges with Cathay Pacific. This will be extended to members outside of Thailand at a later stage.

To celebrate the launch of this partnership, additional benefits will be offered to new members and members who make their first conversions, for a limited period. Non-Thai Cathay Pacific members travelling to Thailand can also enjoy special tourist privileges when they present their digital membership card, boarding pass and passport at Siam Paragon, Siam Center, Siam Discovery, ICONSIAM and Siam Premium Outlets. The full list of privileges can be found in Annex A.

Mr. Panthep Nilasinthop, Chief Customer Officer of Siam Piwat said, "As part of the company's commitment to the Co-create & Collaboration to Win strategy, Siam Piwat actively collaborates with partners to develop business opportunities and sustainable growth models. We achieved the remarkable goal of introducing novel experiences ahead of others in both the physical and virtual worlds. As a result of the collaboration with business partners around the world, Siam Piwat is a Global Admiration that is top-of-mind in the hearts of both Thai and global customers."

"This collaboration will strengthen the retail and international tourism business. Based on our consumer behaviours data, particularly a detailed look at their lifestyle, we discovered that our clients are avid travelers who always have a trip planned. Thus, Siam Piwat and Cathay Pacific have joined forces to create privilege campaigns between VIZ Coins and Cathay members, such as points transfers and redemption of products in famous brands' stores in Siam Piwat's shopping centers or ONESIAM SuperApp. The ONESIAM SuperApp offers more than 20,000 products and services, including special privileges, product discounts from various stores, free gift cards as well as convenient services for tourists."

Mr. Dominic Perret, Regional General Manager of Cathay Pacific Southeast Asia & Southwest Pacific, said, "As a premium lifestyle brand, Cathay prides itself in bringing all that we love about travel together with everyday lifestyle. With Bangkok being one of our top destinations, our partnership with Siam Piwat reinforces our determination to take our member experience to greater heights. As ONESIAM shopping malls are highly recognised as world-class shopping and dining destinations, we are excited to launch this partnership to bring our Cathay members an even wider range of lifestyle products and services."

For more information, please visit this website.