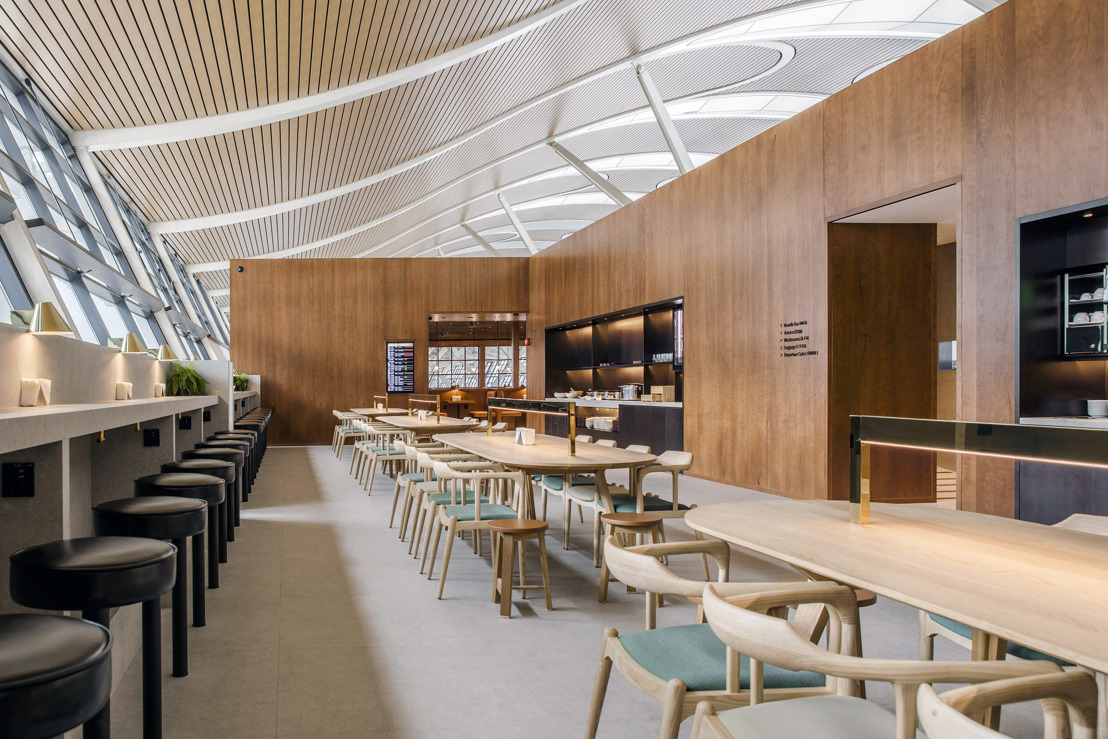 Serenity starts here
Cathay Pacific is moving beyond with the re-opening of the newly renovated Shanghai Pudong lounge on 18 July
Wednesday, July 17, 2019 —

Cathay Pacific is reopening its newly renovated Shanghai Pudong Cathay Pacific Lounge on July 18, marking the introduction of the airline's awards-winning lounge design to mainland China for the first time.

Cathay Pacific is "moving beyond" for its customers with a superior experience at every stage of their journey. The new Shanghai Pudong Cathay Pacific Lounge will be another reason for customers to arrive early, rest and recharge in the welcoming atmosphere of comfort and wellbeing before their flight.

Located near Departure Gate D69 in Pudong Airport's Terminal 2 building, the new lounge occupies a space of 970 square metres and follows the warm, inviting style developed by Studioilse, the London-based studio led by Ilse Crawford, seen in Cathay Pacific's newest lounges across its global network.

Cathay Pacific Chief Customer and Commercial Officer Paul Loo said: "We are delighted to bring our signature lounge design to mainland China, ensuring our customers travelling through Pudong Airport have an even more enjoyable experience when they fly with us. Shanghai is one of our most popular destinations for business and leisure, and a favourite among our most loyal customers. Our premium passengers can now look forward to a multitude of new and improved features at the lounge, especially when it comes to the F&B options they can enjoy."
An Oasis
Passengers leave the hustle and bustle of the airport behind as soon as they reach the reception area, where they are transported to an oasis of serenity designed to reflect the comforts of a modern apartment. The space is stylishly accentuated with natural materials such as cherry wood and limestone, while the medley of different leather and Alcantara-upholstered designer furniture is set up to allow guests to socialise in open areas or wind down more privately in peace and solitude.
The Terrace
A particular highlight of the lounge is the Terrace, an L-shaped, open-ceiling verandah that allows guests to take in panoramic views of the apron and runway while seated at one of the dining tables or bespoke Solo Chairs, which come with a built-in reading lamp and individual side table.
The design of the Terrace is similarly reflected in the open-ceiling food hall, where passengers wanting a pre-flight refreshment can enjoy the convenience of self-serve international hot and cold dishes, freshly baked treats, cheeses and cold cuts that can be picked up from the Servery counter. A variety of wines and spirits are also available at the self-service bar, giving guests the ability to mix their favourite pre-flight cocktails.
The Noodle Bar
The always-popular Noodle Bar, a signature feature among Cathay Pacific's global lounges, is also making its debut in mainland China. Channelling Hong Kong's beloved tea houses, the open-kitchen Noodle Bar offers a combination of communal long tables and private booths set within a stylish dining area complete with hanging lights and dark-wood ceiling fans. Here visitors to the lounge can get a comforting taste of Hong Kong by ordering freshly prepared wonton egg noodles with soup – a Cantonese classic – or perk up before their flight with a spicy Sichuan province special in the form of dan dan noodles. Of course, guests can also enjoy some of Shanghai's own delectable culinary culture with hand-made, soup-filled xiao long bao dumplings among the dim sum dishes served daily.
Meanwhile, high-speed Wi-Fi and Flight Information Display System screens ensure passengers are able to relax, refresh and recharge without worry before their flight.
The Shanghai Pudong Cathay Pacific Lounge is open to First and Business Class passengers, Marco Polo Club Silver members and above, oneworld Emerald and Sapphire members, and members of all tiers holding a valid lounge pass. The opening hours will be from 05:30 to 21:00 daily.
Key Facts
Location

Near Departure Gate D69, Airside,

Terminal 2, Shanghai Pudong International Airport

Size

Seat Capacity

Opening Hour

Admittance

First and Business Class passengers
Marco Polo Club Silver and above members
oneworld Emerald and Sapphire members
Members of all tiers who have earned lounge passes and/or their friends and family members

Lounge Zonings

Reception
Main Lounge
Food Hall
Noodle Bar

Lockers & Luggage Room
Washrooms
Terrace