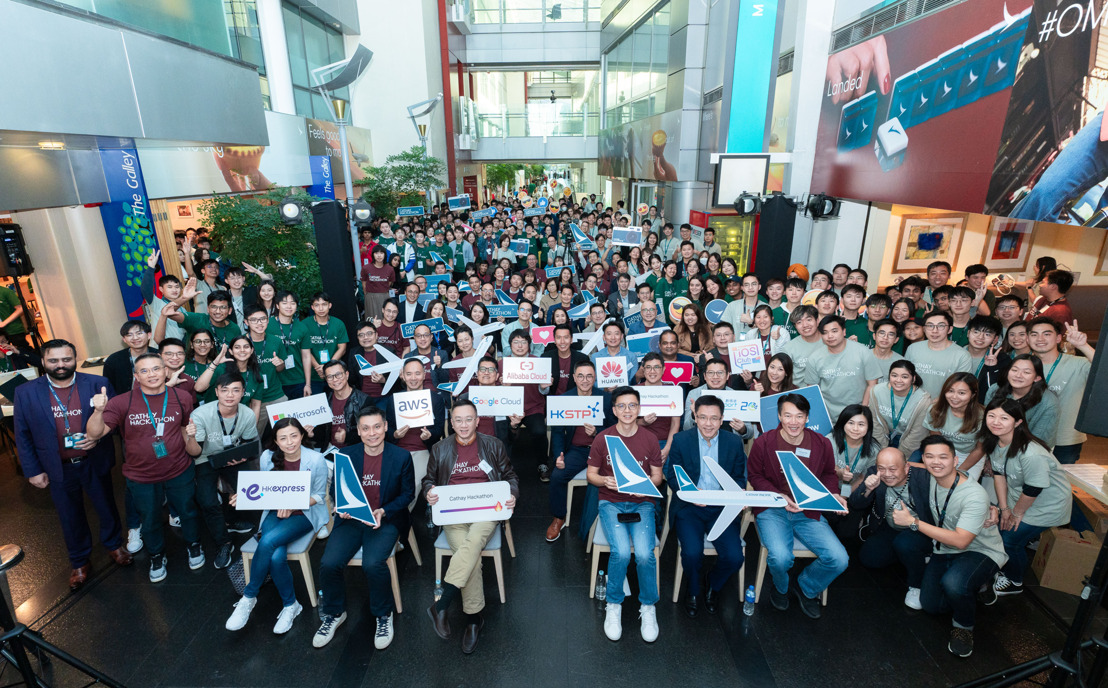 Record-breaking participation at the 6th Annual Cathay Hackathon
280 young innovators gathered at Cathay City to develop cutting-edge tech solutions
Monday, November 20, 2023 —

Cathay's ongoing commitment to fostering the next generation of tech talent was on full display last weekend as 280 tech-savvy and entrepreneurial students gathered at Cathay City for the flagship tech event, the Cathay Hackathon 2023. Over a span of 24 hours, the students joined forces to ideate, develop and pitch innovative solutions designed to enhance customers' travel experience, elevate Cathay's premium lifestyle services, and promote its cargo services.

The Cathay Hackathon received an overwhelming response, with a record-breaking 1,500 applications pouring in from local and overseas universities, making it the highest number of applications since the event first launched in 2016. Following a rigorous selection process, 64 teams were invited to participate in this highly-energised 24-hour event, where they worked tirelessly to develop, prototype and pitch their creative ideas to a judging panel of industry experts.

Attending the Cathay Hackathon as Guest of Honour, Secretary for Innovation, Technology and Industry Professor Sun Dong said: "Only when our young people thrive, Hong Kong will prosper. The Hong Kong SAR Government continues to strengthen our STEAM education, taking further steps to identify and nurture local STEAM elites and we're pleased that Cathay has provided the Hackathon Challenge, a platform for nurturing our talented youngsters, which demonstrates brilliance in bringing together young talents at the challenges facing the aviation industry with innovative solutions."

Cathay Director Digital and IT Lawrence Fong said: "I am delighted to join these passionate and energetic young people at the Cathay Hackathon 2023. It is truly inspiring to see them come together, share ideas, collaborate, and enjoy the process of learning and having fun. To me, the Cathay Hackathon is a unique platform for aspiring young tech talents to showcase their passion, knowledge, and ideas in a competitive environment, with the support and guidance of leading industry experts who accompany them every step of the way on their journey."

Throughout the event, participants received valuable insights shared by 40 coaches and mentors from Cathay and its tech partners, who provided guidance on idea refinement, software development, and design and business strategy. The event was also supported by partners including the Airport Authority Hong Kong, Cyberport, Hong Kong Science and Technology Parks, Amazon Web Services (AWS), Google Cloud, Microsoft, Huawei, Alibaba Cloud and iOS Club. These partners equipped the participants with the necessary tools and resources to ideate, develop, and design their concepts.

As part of the experience, participants were also invited to gain a unique behind-the-scenes perspective of the company's operations both in the air and on the ground at its Cathay City headquarters.

This year's winning team, NAAR, comprised members from diverse backgrounds. Their winning idea involved leveraging artificial intelligence technology and computer vision-based dimensioning systems to optimise spacing in cargo loads, increasing accuracy, profitability and reducing the need for manual labour.

NAAR member Anushka Purohit said: "The Cathay Hackathon 2023 was an incredibly rewarding experience for us. Not only did we have the opportunity to meet and learn from technology experts, but we also gained a newfound perspective on the impact of technology in the aviation industry. It was truly eye-opening, and we're excited for the upcoming engagements with Cathay!"

NAAR won round-trip Business class tickets to any destination in Cathay Pacific's network as well as a combined 100,000 Asia Miles. Additionally, they were offered an opportunity to join Cathay as IT Summer Interns and gain fast-track access to the IT & Digital Graduate Trainee Programme.

Alongside Cathay's youth development programmes, the top three winning teams will have a chance to spend a day with senior leaders at Cathay City through job shadowing experience. Moreover, they will also receive innovation grants from leading tech partners to support their entrepreneurial journey.

The Cathay Hackathon is part of Cathay's ongoing commitment to nurturing and developing young talent for the aviation industry in Hong Kong. Through its many successful youth initiatives, including the Digital & IT Summer Internship, Graduate Trainee Programmes, Cadet Pilot Training Programme, the I Can Fly programme and the Cathay Community Flight, Cathay continues to support young talent and promote aviation, travel lifestyle, technology and innovation in Hong Kong.