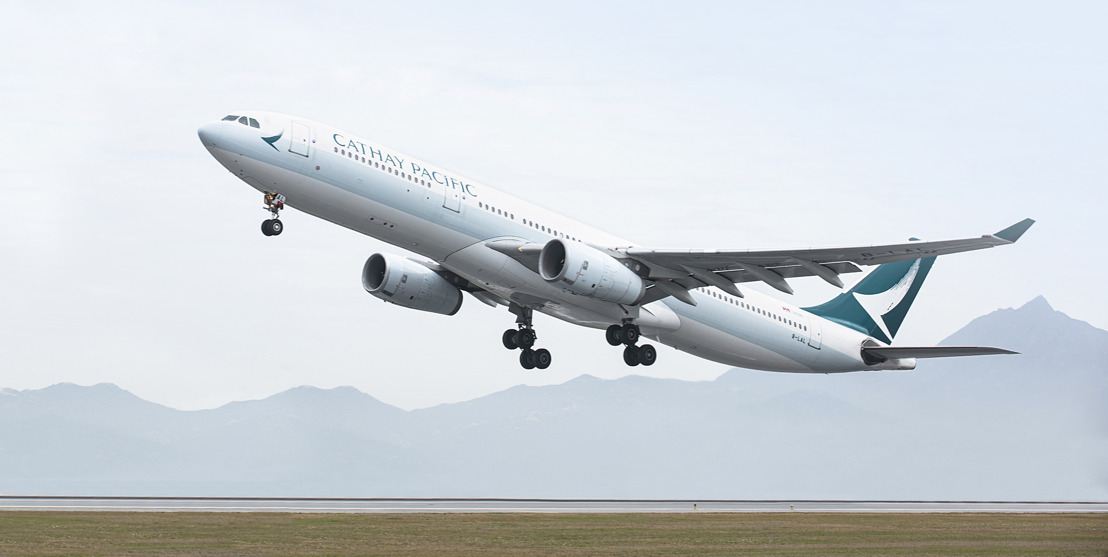 Now fly Cathay Pacific from Bengaluru to Hong Kong and beyond
Hong Kong's home airline will start twice-a-week direct flights from Bengaluru to Hong Kong and beyond from 11 October 2022
Monday 29 August 2022 —

Cathay Pacific will operate two non-stop weekly flights from Bengaluru. The introduction of Cathay Pacific in the city will enhance India's direct connectivity with Hong Kong and connect customers to popular destinations such as the USA, Australia, Japan, the Philippines and more.

Customers can also connect seamlessly on the airline's interline partners from other Indian cities such as Chennai, Hyderabad and Kolkata to Hong Kong and beyond via Cathay Pacific's Bengaluru, Mumbai and Delhi flights. All flights from Bengaluru will depart from Kempegowda International Airport and customers can book their tickets on Cathay Pacific's website or through their agency partners.

Flight Schedule*
| | | | | |
| --- | --- | --- | --- | --- |
| Flight | Day of Operation | Route | STD | STA |
| CX 623 | Monday, Thursday | Hong Kong to Bengaluru | 20:55 | 00:20 (+1) |
| CX 624 | Tuesday, Friday | Bengaluru to Hong Kong | 01:20 | 09:50 |
*Please refer to the website for the most up to date schedule for October and further months.
Rakesh Raicar, Regional General Manager, South Asia, Middle East and Africa said, "We are delighted to once again serve the residents of Bengaluru. As a group, we have had a long-standing history with the city and now we will be taking to the skies from the third-largest airport in India – Kempegowda International Airport on 11 October with Cathay Pacific."
"A wide-body aircraft on this route will not only cater to the travel needs of corporate and leisure travellers but provide each segment with a cabin of choice and allow them to travel with enhanced comfort to Hong Kong and beyond. Moreover, launching Cathay Pacific in the city also gives us an opportunity to service our customers and partners, whilst providing them with a comfortable and a premium experience on our world-class products."
"Hong Kong is a key business and leisure destination and BLR Airport being the 'New Gateway to India', is delighted to have the Cathay Pacific group once again connecting Bengaluru to Hong Kong and beyond. It gives us immense pleasure to welcome their wide-body Boeing 777-300 aircraft that offers premium connectivity for passengers and cargo to multiple destinations in the Far East. It's always been our endeavour to explore new partnerships and establish enhanced connectivity. With Cathay Pacific, we hope to grow stronger as a preferred hub for One World alliance partners with eight carriers choosing Bengaluru as their Southern India gateway," said Satyaki Raghunath, Chief Strategy and Development Officer, Bangalore International Airport Ltd (BIAL).
Customers flying from Bengaluru can now experience greater comfort on Cathay Pacific's Boeing 777-300, providing travellers with an unsurpassed cabin environment on the Bengaluru – Hong Kong route. The aircraft is configured with a three-class cabin configuration featuring Economy, Premium Economy and Business class, thus offering customers an array of cabin options to choose from that suits their needs.
Business Class
Customers can enjoy a premium experience in Cathay Pacific's Business class cabin that includes lie-flat seats, privacy partitions, adjustable lighting, expansive tables, one-click sitting and sleeping settings, and a selection of Bamford skincare products that keeps them refreshed and hydrated through their journey. Moreover, they can savour the specially curated contemporary Business class menu, highlighting bold international flavours, classic Hong Kong favourites and light, healthy options. All meals are complemented with a selection of fine wines, champagnes, premium spirits and Betsy beer – the airline's pale ale handcrafted for 35,000 feet.
Travellers flying Business class and transiting through Hong Kong can relax in Cathay Pacific's largest lounge, The Pier, Business, modelled after Hong Kong's inspirational experiences, while enjoying the city's flavours and home comforts at the lounge's signature Teahouse and the popular Noodle Bar.
Premium Economy
Customers travelling in the airline's Premium Economy cabin can enjoy greater comfort during their journey with a spacious cabin as well as priority boarding. All seats in Premium Economy come equipped with a generous recline, expansive legroom, supported head rest, footrests, a larger meal table and additional storage space, making the overall journey even more enjoyable and comfortable.
Economy
With Cathay Pacific's Economy cabin, customers can enjoy their journey through the skies with seats that are ergonomically designed with cushioning and an adjustable headrest, providing maximum support for the head and neck, as well as ample legroom to stretch out.
Customers travelling and booking in Economy can further take advantage of the airline's redesigned Economy fares giving them the choice and flexibility to choose what suits them when booking their flights. The Light, Essential and Flex fares are tailored to meet customers' needs. Each fare offers customers increasingly more control and greater benefits, from enhanced baggage allowances to flexible rebooking and upgrade options.
Passengers can look forward to a significantly enriched inflight entertainment experience offering four times more content, including favourite binge-worthy shows and movies under the HBO Max library, available across all cabin classes when they fly with Cathay Pacific.
Travel seamlessly and safely with Cathay Pacific
Cathay Pacific has partnered with diagnostic labs to offer special rates on RT-PCR testing to customers travelling to Hong Kong and beyond. Customers can avail the special offers from a host of different cities including Bengaluru, Mumbai, Delhi and more. As part of the 'Fly Ready' programme customers can conveniently upload COVID-19 test results and other required health documents before their flight to Hong Kong. Documents uploaded are verified ahead of time, allowing customers to have a seamless and hassle-free check-in and travel experience.
In an effort to allow travellers greater flexibility with their bookings, the airline has launched the Fly (Worry) Free programme, giving customers an option to make unlimited ticket changes to their booking, including choosing different travel dates and even destinations until 31st December 2022.
Special offers when flying with Cathay Pacific
Customers booking their tickets on the Cathay Pacific website can enjoy the flexibility to purchase tickets using a mix of Miles Plus Cash. Moreover, students can also take advantage of extra baggage allowance, free changes to their booking to North America as well as a 10% discount on Economy fares to Australia. To know more about the student only discount, visit the Cathay Pacific website.
Fly to Hong Kong or beyond
Anti-pandemic regulations are currently in place for passengers arriving in or transiting through Hong Kong, including presenting a negative COVID-19 test result, as per requirements implemented by the Hong Kong government. Passengers are advised to refer to government websites for the most updated information. More information about travelling to or via Hong Kong can be found here.
In addition to booking tickets on the airline's website, customers can also contact the Customer Care team on 000-800-050-2163, message the airline on WhatsApp to book their tickets or seek any additional assistance.
About Cathay Pacific
Cathay Pacific is the home airline of Hong Kong with over 75 years of history, and is a founding member of the oneworld global alliance. The Cathay Pacific Group also comprises low-cost airline HK Express and express all-cargo carrier Air Hong Kong, connecting people and cargo around the world. Cathay Pacific is a member of the Swire Group and is listed on the Hong Kong Stock Exchange (HKSE). For more information, please visit www.cathaypacific.com.
About Kempegowda International Airport, Bengaluru
Kempegowda International Airport, Bengaluru (BLR Airport), named after the founder of the City – Hiriya Kempegowda – has the unique distinction of being the first Greenfield Airport in India, established on a Public-Private Partnership (PPP) model. This heralded a revolution in Indian aviation, as more airports in the Country were privatised, thereafter. BLR Airport commenced operations on May 24, 2008 – 33 months from the start of construction. The expansion of the Terminal was completed in 2014 to cater to the steady, unprecedented growth in passenger volumes. Having served 10 million passengers in 2008, BLR Airport witnessed phenomenal growth during the subsequent years, becoming the fastest growing airport in the world in 2018. As the busiest Airport in South India and the third largest in the Country, BLR Airport achieved a significant milestone in June 2022 by crossing the 250 million passenger mark since the launch of its operations or Airport Opening Day (AOD).