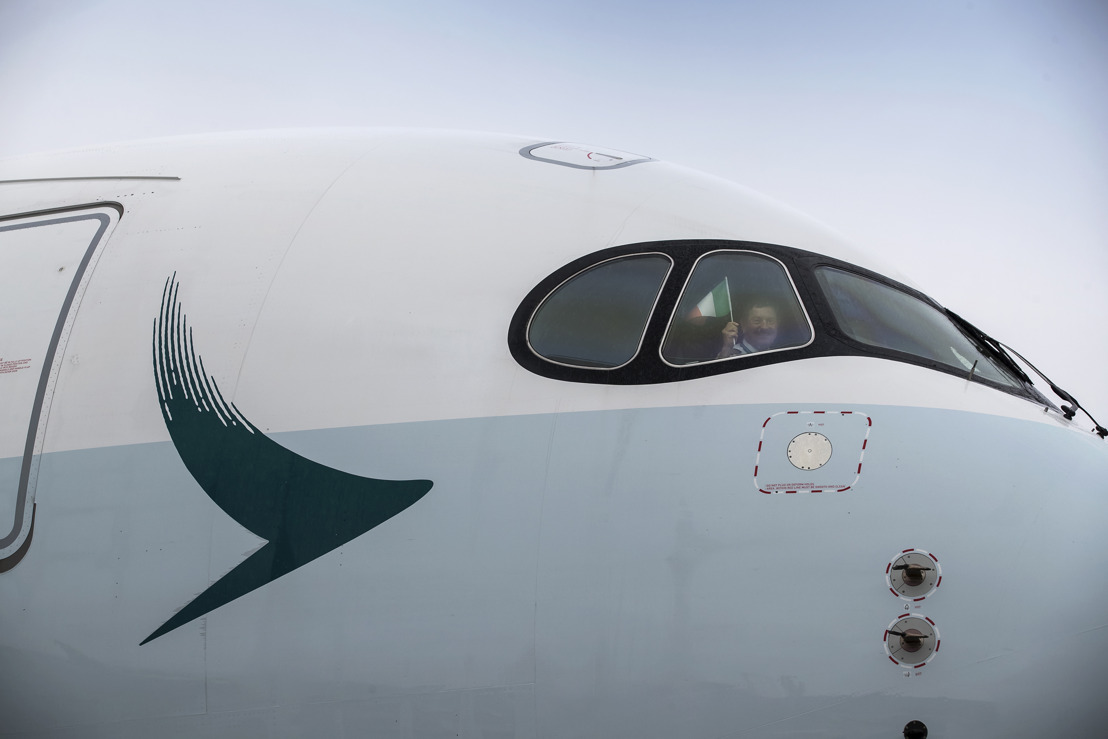 Dublin Birthday Fare Bonanza
Cathay Pacific celebrates the first anniversary of Ireland's first and only non-stop flight to Hong Kong with return fares starting from €399
Friday 31 May 2019 —

It was only last year that Cathay Pacific launched Ireland's first non-stop flight to the Far East. On 2 June 2019, the Dublin-Hong Kong four-times-weekly flight will turn one year old.

Cathay Pacific Regional Head of Marketing & Sales Europe, Edward Fotheringham, said: "We are thrilled to see that in just one year, nearly 40,000 passenger trips have been made, and 2 million kilos of freight carried from Dublin to Hong Kong and beyond. On behalf of Cathay Pacific's team and our newly-appointed Account Manager Dublin, Fiona Noonan, we would like to thank our passengers and trade partners for their encouraging and continued support."

"Most of all, we look forward to further growing bilateral trade and tourism relationships between Ireland and the Far East," Ed continued. "It remains our top priority to make this relative new addition in our ever-expanding network a continued commercial success."

Cathay Pacific's brand promise, Move Beyond, reflects its determination to challenge what is considered 'standard' or 'expected'; to move beyond and be the very best it can be. Living up to this aspiration, Cathay Pacific is to commemorate the first anniversary of the Dublin-Hong Kong route with a Dublin Birthday Flash Sale, lasting just four days. The sale offers irresistible fares for customers to experience our award-winning service and game-changing inflight products that place the airline amongst the world's greatest service brands.

Edward said: "On our Dublin-Hong Kong route's very first birthday, we would like to celebrate with Ireland by offering highly enticing fares to six of our most popular destinations. These include Hong Kong from €399 all-in; Bali, Indonesia from €759; Cebu, the Philippines from €619; Manila, the Philippines from €599; Sydney, Australia from €959, and Fuzhou, China from €549."

The Dublin Birthday Flash Sale lasts four days, starts midnight 31 May 2019 and ends on 3 June 2019. Seats are limited, customers can book their flights on www.cathaypacific.ie.
Birthday Present for Hong Kong- Enjoy HKD1,000 off packages to Dublin
To thank you for our customers' support, we are launching an exclusive Dublin Birthday offer in Hong Kong.
The first 20 customers who book a flight + hotel package from Hong Kong to Dublin here will receive HKD1,000 off their trip. Simply enter the Discount Code "HKGDUB19" at the start of your booking to receive the savings. The Discount Code is valid midnight 1 June 2019 and available whilst stock lasts. Scroll down for T&Cs.
Happy flying and enjoy Dublin. Book here.
Game-changing Economy
Cathay Pacific is moving beyond for our customers by bringing personal recognition and a sense of care and reliability to the whole travel experience.
To that end, Cathay Pacific operates its newest Airbus A350 aircraft into Dublin – one of the only airlines to do so. Onboard the aircraft, passengers will find seats that emphasise comfort; technologies that enhance wellbeing and connectivity, not to mention delectable hot meals, beverages and snacks for all passengers throughout the flight.
Thoughtful seat details – every A350-900 Economy seat comes with a Cathay Pacific proprietary six-way headrest that fully cocoons the head and neck, and an armrest that lies flush with the seat back for extra shoulder space. Every seat also features its own power outlet and USB port, with a dedicated fold-down tablet shelf at eye level for easy viewing of passenger's own devices. The Economy Class seat pitch is generous at 32"; footwell space is maximised as there are no obstructions under the seat in front.
Progressive entertainment – equipped with inflight Wi-Fi, customers can stay connected on social media at 35,000 ft. The inflight entertainment system features a high-definition 11" screen, which can be used to livestream TV news, a myriad of on-demand movies, box sets, games, music, and international magazines. Passengers can also interact with a fun 3D map that zooms the globe onto street level.
Can-do spirit – our helpful ground colleagues and cabin crew strive to move beyond the expected and standard for our customers, to make their journeys memorable and enjoyable.
80+ Destinations in the Far East and Down Under
Cathay Pacific along with regional airline Cathay Dragon fly to more than 80+ destinations in Australasia – more than any other airlines currently operating out of Dublin. With the Dublin to Hong Kong flight arriving conveniently at 7am in the morning, passengers will benefit from a wide-range of transiting flight options from Cathay Pacific's hub and award-winning Hong Kong International Airport.
Wherever your travels and business take you, Cathay Pacific is here to help you Move Beyond.
Cathay Pacific Dublin Birthday Flash Sale: Fare table and travel periods
Departure

Destination

Travel period

All-in return fare in Economy Class from*

Dublin

01June 19-27June 19
OR
10 August 19-
11 December 19


€399

€549

€619

€599

€759

€959
*Prices are all-in return fares for Economy Class only. Availability is limited. T&Cs apply. Prices on www.cathaypacific.ie are final.
Terms and conditions
The voucher code ("Code") is issued by Cathay Holidays Limited ("us" or "we").
The Code is only applicable to Travel Package originating from Hong Kong SAR to Dublin.
Travel Package must be booked and paid for on or before 7 June 2019 and complete travel before 31 December 2019 (both days inclusive).
The Code entitles the voucher value of HKD1000 off the Travel Package price.
This Code is limited to first 20 eligible package transactions while stock lasts.
The Code is valid only for qualifying purchases made online through Cathay Pacific website at the time of purchase, and cannot be claimed after you have confirmed your booking.
The Code is only eligible on booking which contains at least one adult.
The Code entitles you the voucher value off the Travel Package price which includes airfare on any Cathay Pacific / Cathay Dragon operated flights, and all applicable taxes and charges to be collected during the online purchase at the same transaction. It cannot be used to offset other possible charges including "resort fees" for certain services and optional consumption based costs and any other fees that are charged to you by, and/or payable directly by you to, the hotels or Travel Extras suppliers.
If the total package value booked is less than the voucher code value, the residual amount will be considered as forfeited.
Maximum one (1) voucher code can be applied on each single package booking.
Flights, rooms and hotel benefits are subject to availability.
The Code contains no cash value and cannot be claimed into cash under any circumstances. The Code cannot be transferred or sold. The Code obtained through unauthorized channels, mutilated, altered, copied, forged, damaged, manipulated, or tampered with in any way will be deemed void.
We reserve the rights to make final decision and/or to withdraw on all matters relating to the Code. We shall have no liability for any website failure, coupon errors, any malfunction of computers, communications and facilities, any deficiencies of service and any loss or damage caused by email or other means.
Cathay Holidays Limited terms and conditions apply.
In the event of any inconsistency between the English version and the translated version of this notice, the English version shall prevail.