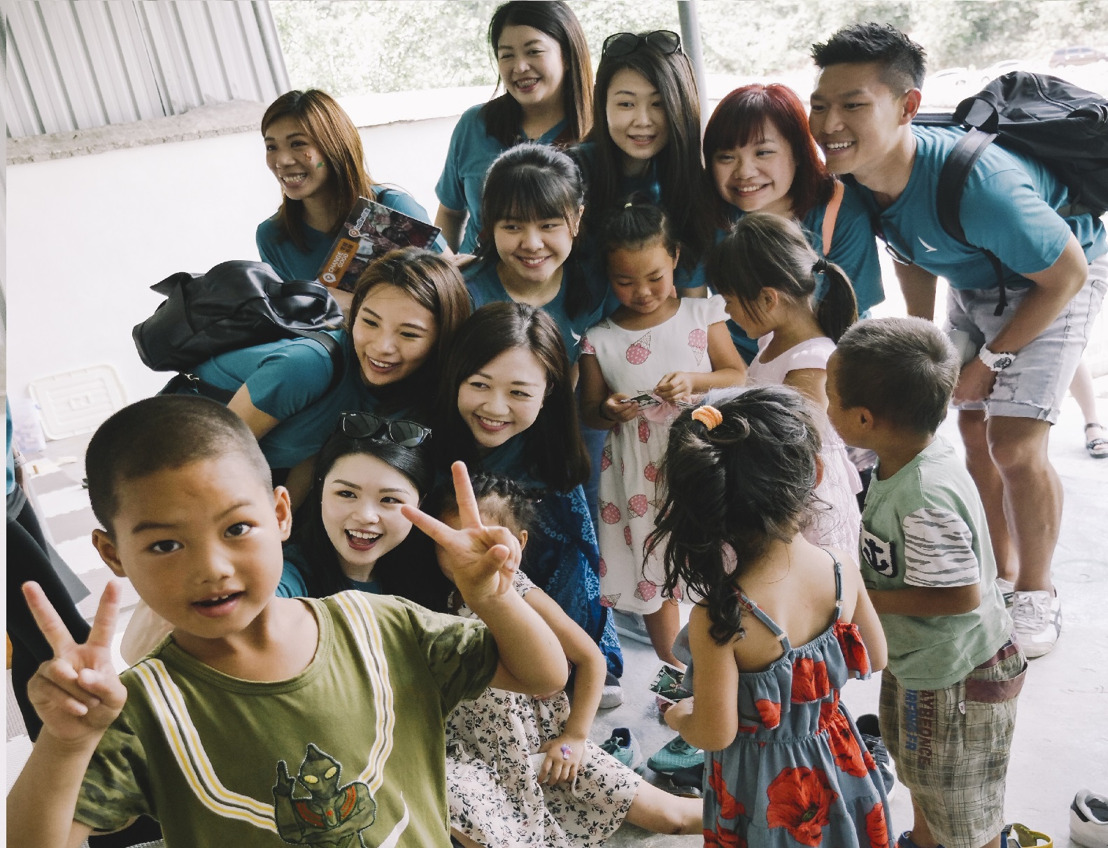 Change for Good changing lives
Airline volunteers experience how Change for Good is bettering the lives of children living in rural China
Tuesday, July 24, 2018 —

Thirteen Cathay Pacific volunteers visited UNICEF's project work in Guizhou province in mainland China last month.

Organised by Hong Kong Committee for UNICEF (UNICEF HK), the five-day field trip allowed the airline's employees to see first-hand how donations raised through the inflight Change for Good programme are being used to improve education, child protection, nutrition and sanitation in places of need. The team visited schools funded by the project in order to understand issues affecting early childhood development in Guizhou province as well as gaining hands-on experience in programme work.

One of the volunteers, Elaine, was moved by a family coping to raise a 'left-behind' five-year-old child, whose parents had migrated to the cities in search of work.

"The grandparents and the child himself were extremely grateful and happy for the opportunity for him to be at school and able to enjoy basic playtime and learn the simplest social skills that are necessary for a proper childhood. They told us happily that they walked 45 minutes each way to and from school every day – which is still a long way for a five-year-old!"

She added: "This trip has really widened my perspective on what UNICEF does to help these communities in need. It's humbling to know that the little things we do can make such a profound difference in these beautiful lives"

Since the launch of the programme in Hong Kong in 1991, Change for Good has been successful in converting spare coins and notes into life-saving materials and services to improve the wellbeing of vulnerable children and women worldwide, including in mainland China and around Asia.

Through the Change for Good programme, Cathay Pacific has helped raised more than HK$176 million over the past 27 years. Over the past three years, a proportion of the proceeds raised have been used to support the Schools for Asia initiative, which provides children between the ages of three and six with an early education, critical for a better and fairer start in life.

To discover more about Cathay Pacific's collaboration with UNICEF HK and stories from the recent field trip to Guizhou province, please visit our Facebook page.

About Cathay Pacific

The Hong Kong-based Cathay Pacific Group offers scheduled passenger and cargo services to over 200 destinations in 53 countries or territories, using a fleet of close to 200 aircraft. Cathay Pacific Group includes three airlines, Cathay Pacific, Cathay Dragon and Air Hong Kong. Cathay Pacific is a founder member of the oneworld alliance. These airlines serve more than 1,000 airports in over 150 countries. Cathay Pacific believes in providing its customers with superior products and services at every stage of their journey. For more information, visit www.cathaypacific.com. For more information, visit www.cathaypacific.com.

About UNICEF HK

The Hong Kong Committee for UNICEF (UNICEF HK) was founded in 1986 and was established as an independent local non-government organization to raise funds through public donations, partnerships with companies, special events, etc. to support UNICEF's work. UNICEF HK also promotes and advocates for children's rights via organizing education and youth programmes in Hong Kong. For more information about UNICEF and its work visit: http://www.unicef.org.hk.