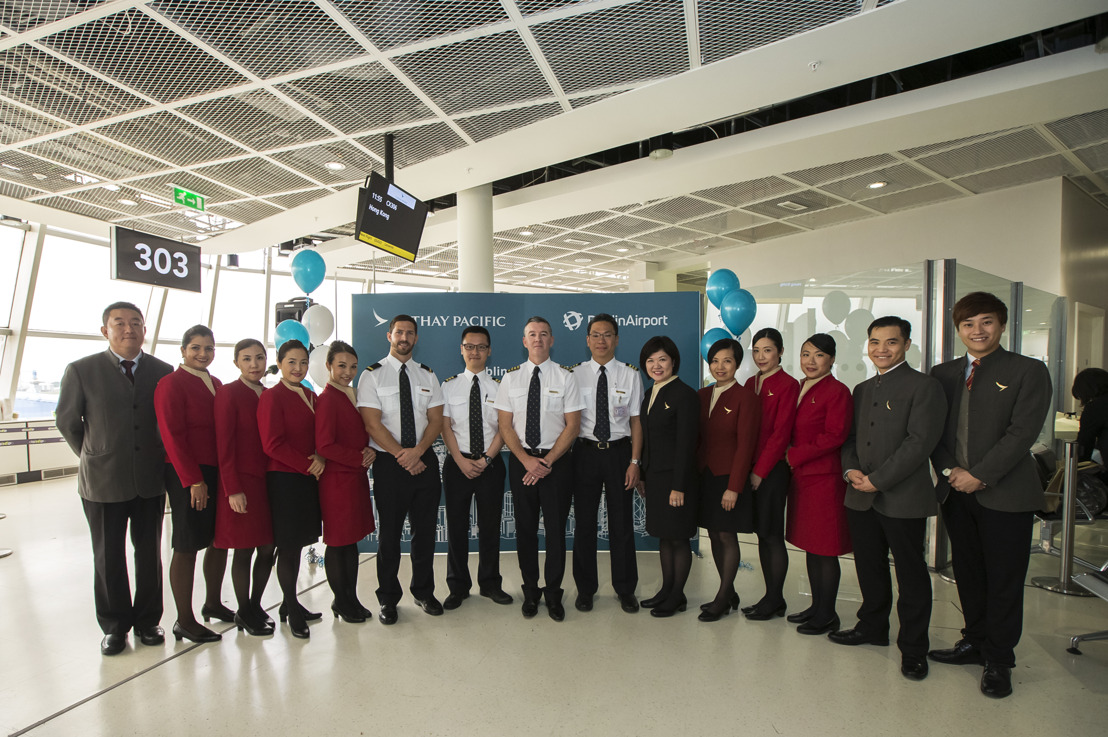 Cathay Pacific launches non-stop flight from Dublin to Hong Kong
The latest route in the airline's expanding European network heralds the first non-stop link between Ireland and Asia
Saturday, June 2, 2018 —

Cathay Pacific today celebrated the launch of its non-stop service between Dublin and Hong Kong. The new route is the airline's third European service to inaugurate in 2018, following the commencement of direct flights from Brussels and Copenhagen in March and May respectively. The Hong Kong-based airline currently operates to 15 destinations in Europe.

In connecting the Emerald Island directly to the heart of Asia, Cathay Pacific asserts its commitment to providing customers, both business and leisure travellers alike, with greater options and flexibility.

Cathay Pacific General Manager Europe James Ginns said: "We're delighted that Ireland's first and only non-stop flight to Hong Kong has been well-received by our customers. Our team is thrilled to be able have a role in fostering bilateral tourism and economic growth between Ireland and Asia. We feel confident that this new route will continue to bring more convenience and choice to the Irish public and optimise opportunities for Irish businesses."

The first Cathay Pacific service from Dublin to Hong Kong, flight CX306, was operated by the airline's technologically-advanced Airbus A350-900 aircraft with the registration B-LRI. The flight, carrying a full complement of 280 passengers, and 15 tonnes of Irish cargo bound for many different Asian destinations, departed Dublin Airport at around noon today.
Launched with a lion dance
Departing passengers enjoyed a special gate ceremony to celebrate the launch with refreshments and a traditional Chinese lion dance performance. Passengers also received a personalised flight certificate to commemorate their support for the first flight, as well as a gift pack filled with exclusively selected items to help business and leisure travellers embark on a journey of a Life Well Travelled.
Guest of Honour at this morning's gate ceremony, Dublin Airport Managing Director Vincent Harrison, said: "This is a historic and momentous day for Dublin Airport. We are delighted to welcome Cathay Pacific to Dublin Airport and to Ireland. Today is result of collaboration of many years work with a wide range of other bodies such as Irish Embassy in China, the Consulate in Hong Kong, our colleagues at Tourism Ireland and other key stakeholders such as IDA Ireland, Enterprise Ireland and Bord Bia.
"Trade between Ireland and China is worth more than €8 billion per annum and almost 100 Irish firms have operations in China, employing a total of 100,000 people there. With an estimated 4,000 Irish people living in Hong Kong and about 40,000 people per year travelling between our two cities I have no doubt this new route will be popular for business and leisure travellers."
A journey of significance for our Irish captain
The inaugural service had special meaning for the flight's commander, Senior Captain Ian McGuinness, who said: "I'm happy to be able to operate this very first service between my between my home town of Ireland and my adopted city of Hong Kong. I grew up in Ireland and have lived in Hong Kong for the past 17 years. Both places are vibrant and dynamic, and I'm pleased that customers can now enjoy a direct link to explore the beauty and culture of my abodes that I have grown to know and love."
Cathay Pacific's Dublin to Hong Kong direct service operates on a four-times-weekly basis, departing Dublin every Monday, Wednesday, Thursday and Saturday, arriving in Hong Kong at 7am the next day. The schedule helps customers to maximise their business day as well as optimising the options for onward connections to more than 80 destinations in Asia-Pacific via the Hong Kong hub.
Cathay Pacific and Dublin
Cathay Pacific is a Hong Kong-based airline offering scheduled passenger and cargo services to some 200 destinations worldwide, including more than 80 destinations in Asia Pacific, using an ultra-modern fleet of more than 140 wide-body aircraft. From Dublin, Cathay Pacific operates a four-times-weekly service using the Airbus A350-900 in a three-class configuration, consisting of Business, Premium Economy and Economy Class cabins.
Cathay Pacific's new Dublin service complements its codeshare flights from Shannon, Cork and Belfast to London Heathrow – where the airline operates up to 35 flights a week to Hong Kong. The airline also operates daily direct flights from London Gatwick and Manchester.
About Dublin Airport Authority
Dublin Airport is the main international gateway for the island of Ireland with connections to 192 destinations in 42 countries operated by 56 airlines. A record-breaking 29.6 million passengers travelled through Dublin Airport in 2017, which was the seventh consecutive year of growth at the airport. Dublin Airport has welcomed almost 12 million extra passengers, 113 new routes and services and 22 new airlines in those seven years. Further growth is expected this year with 14 new services being launched including Cathay Pacific's a new four times weekly direct service to Hong Kong. Dublin Airport is situated 12 kilometres from the city centre and can be accessed via public and private bus services and taxis. Follow @DublinAirport on Twitter.