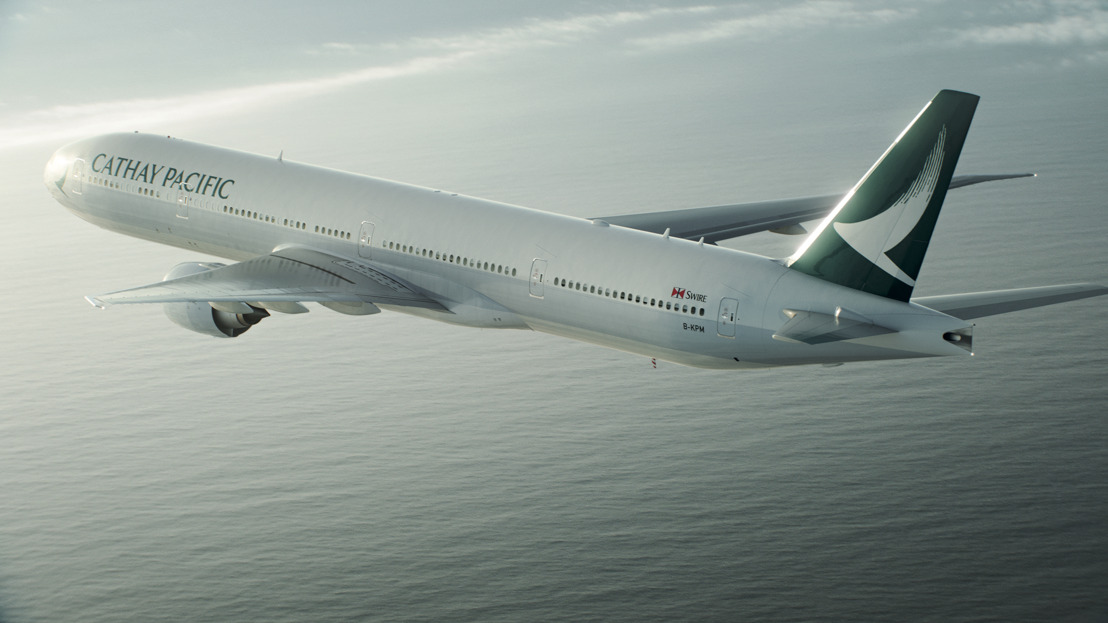 Cathay Pacific Group Releases Combined Traffic Figures for May 2018
Tuesday, June 19, 2018 — Cathay Pacific Group today released combined Cathay Pacific and Cathay Dragon traffic figures for May 2018 that show a slight drop in the number of passengers carried and an increase in cargo and mail uplifted compared to the same month in 2017.
Cathay Pacific and Cathay Dragon carried a total of 2,827,634 passengers last month – a drop of 0.8% compared to May 2017. The passenger load factor decreased 2.2 percentage points to 82%, while capacity, measured in available seat kilometres (ASKs), increased by 2.9%. In the first five months of 2018, the number of passenger carried grew by 1.4% while capacity increased by 3%.
The two airlines carried 175,074 tonnes of cargo and mail last month, an increase of 8.2% compared to the same month last year. The cargo and mail load factor rose by 2.3 percentage points to 68.6%. Capacity, measured in available freight tonne kilometres (AFTKs), was up by 3.8% while cargo and mail revenue freight tonne kilometres (RFTKs) increased by 7.4%. In the first five months of 2018, the tonnage rose by 7.9% against a 4.5% increase in capacity and a 7.7% increase in RFTKs.
Cathay Pacific Director Commercial and Cargo Ronald Lam said: "May is traditionally a relatively slack month for leisure travel. Our overall passenger volume growth was therefore slightly slower than capacity increases. However, we saw good growth in overall yield, mainly driven by healthy business travel demand and favourable currency trends.
"In terms of cargo, we had stable uplift in May. Higher transshipment flow across the network helped improve our load factor, while yield also strengthened. Our new European routes to Brussels, Copenhagen and Dublin were all launched smoothly and are performing in line with our expectations."
Airlines Combined TRAFFIC

MAY

% Change

Cumulative

%

Change

2018

v MAY 17

MAY 2018

v YTD17

RPK (000)

- Mainland China

756,423

-0.1%

3,834,534

2.9%

- North East Asia

1,237,894

0.5%

6,676,030

0.8%

- South East Asia

1,429,593

-0.8%

7,402,587

0.4%

- India, Middle East, Pakistan & Sri Lanka

596,297

-2.6%

2,903,640

-1.7%

- South West Pacific & South Africa

1,175,590

-4.8%

7,371,796

1.2%

- North America

3,064,409

-1.8%

14,145,848

1.4%

- Europe

2,120,585

8.3%

10,567,326

7.3%

RPK Total (000)

10,380,791

0.2%

52,901,761

2.2%

Passengers carried

2,827,634

-0.8%

14,559,319

1.4%

RFTK Total (000)

965,348

7.4%

4,802,950

7.7%

Cargo and mail carried (000kg)

175,074

8.2%

857,897

7.9%

Number of flights

6,779

2.1%

33,722

2.3%
Airlines Combined CAPACITY

MAY

% Change

Cumulative

%

Change

2018

v MAY 17

MAY 2018

v YTD17

ASK (000)

- Mainland China

1,001,486

-0.1%

4,929,617

0.0%

- North East Asia

1,626,562

5.0%

8,147,343

1.7%

- South East Asia

1,814,610

3.0%

8,887,038

2.0%

- India, Middle East, Pakistan & Sri Lanka

734,387

3.0%

3,588,290

1.2%

- South West Pacific & South Africa

1,513,165

-5.9%

8,982,224

5.4%

- North America

3,382,656

-2.2%

16,093,206

-1.4%

- Europe

2,589,715

17.2%

12,348,089

11.5%

ASK Total (000)

12,662,581

2.9%

62,975,807

3.0%

Passenger load factor

82.0%

-2.2pt

84.0%

-0.7pt

AFTK Total (000)

1,407,234

3.8%

7,086,798

4.5%

Cargo and mail load factor

68.6%

2.3pt

67.8%

2.0pt

ATK (000)

2,611,122

3.4%

13,074,810

3.8%