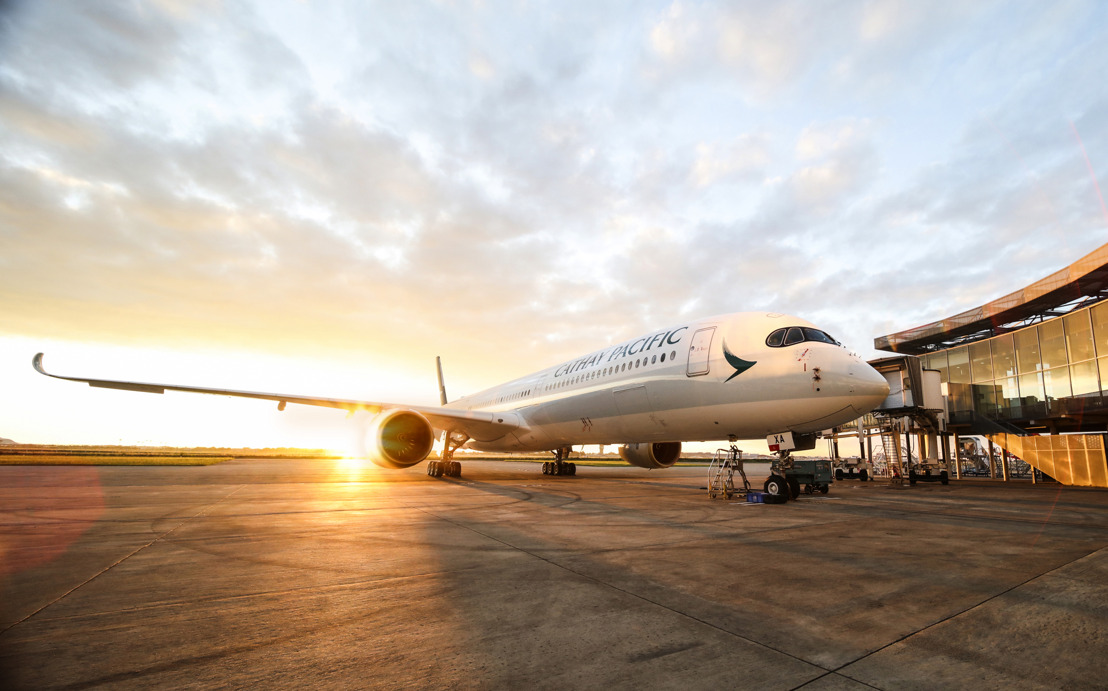 Cathay Pacific Group Releases Combined Traffic Figures for February 2020
Monday, March 16, 2020 —

The Cathay Pacific Group today released combined Cathay Pacific and Cathay Dragon traffic figures for February 2020 that show decreases in the number of passengers carried and the amount of cargo and mail uplifted compared to the same month in 2019.

Cathay Pacific and Cathay Dragon carried a total of 1,008,644 passengers last month, or 4,735,301,000 revenue passenger kilometres (RPKs) – a decrease of 54.1% compared to February 2019. Passenger load factor decreased by 28.6 percentage points to 53.1%, while capacity, measured in available seat kilometres (ASKs), decreased by 29.3%.

The two airlines carried 118,711 tonnes of cargo and mail last month, or 698,019,000 revenue freight tonne kilometres (RFTKs) – a decrease of 6.9% compared to the same month last year. The cargo and mail load factor increased by 5.8 percentage points to 66.6%, while capacity, measured in available freight tonne kilometres (AFTKs), was down by 15.1%.

Cathay Pacific Group Chief Customer and Commercial Officer Ronald Lam said: "We are facing an unprecedented challenge as the COVID-19 pandemic continues to cause widespread disruption to our operation and business. In February alone, we made a significant unaudited loss of more than HK$2 billion at the full-service airline level (Cathay Pacific and Cathay Dragon).

"The situation has further deteriorated since February. We have already announced around 65% passenger flight capacity reduction for March. Governments around the world have since introduced more travel restrictions, with the most recent ones starting to affect our major long-haul markets including Europe, the United States and Southwest Pacific. Given the expected further drop in travel demand , we are planning to only operate a bare skeleton passenger flight schedule for April, which represents up to 90% capacity reduction.

"If we do not see a relaxation of travel restrictions in the near future, we expect the same arrangement will have to continue into May.

"While our freighter capacity remains intact, the reduction of our passenger flights has had a significant impact on our overall cargo capacity as well as our ability to carry cargo to destinations only served by our passenger flights. However, we remain flexible in deploying additional cargo capacity, including mounting additional freighter flights as well as cargo-only passenger flights.
Passenger
"Back to February, the first two weeks were poor and the situation deteriorated even further in the latter half of the month. Our regional routes, most notably mainland China, Taiwan, Korea and the Philippines, saw the most significant drops in passenger volume.
"Overall passenger numbers were down 64% in February when compared with last year. On a typical day following the Chinese New Year peak we would normally carry around 90,000 passengers; towards the end of February, that figure dropped to below 20,000. Our load factors dipped to 53.1% with yield also significantly impacted.
Cargo
"The prolonged Chinese New Year holiday together with efforts to contain the coronavirus outbreak in early February led to a delay in the resumption of production in mainland China. Demand for outbound airfreight from the mainland and Hong Kong only began to recover progressively from mid-February.
"In contrast, there was an overflow of demand for cargo services into mainland China and Hong Kong partly due to significant capacity cutbacks and a surge of pharmaceutical-related orders. Our cargo load factor grew 5.8 percentage points with stable yield in February when compared with last year.
Outlook
"The scale of the challenge we are currently facing is unprecedented and no one can predict when conditions will improve. Our advance passenger bookings show no clear signs of recovery at this stage, and the gap in bookings compared to 2019 continues to widen.
"We already made it known last week that a substantial loss in the first half of this year is expected. Nevertheless, Cathay Pacific is a resilient company and we remain confident in the future of the company, of Hong Kong as an aviation hub, and in our ability to thrive in this region over the long term."
CATHAY PACIFIC / CATHAY DRAGON COMBINED TRAFFIC

FEB

% change

Cumulative

%

change

2020

v FEB19

FEB 2020

v YTD19

RPK (000)

- Mainland China

93,363

-87.3%

716,983

-52.4%

- North East Asia

564,736

-58.3%

1,943,866

-30.1%

- South East Asia

516,079

-62.3%

2,053,093

-28.9%

- South Asia, Middle East & Africa

337,678

-58.1%

1,344,676

-26.2%

- South West Pacific

957,910

-34.3%

2,723,763

-11.3%

- North America

1,310,951

-49.2%

4,533,308

-23.3%

- Europe

954,584

-52.5%

3,250,188

-26.0%

RPK Total (000)

4,735,301

-54.1%

16,565,877

-25.9%

Passengers carried

1,008,644

-64.4%

4,018,656

-32.6%

RFTK Total (000)

698,019

-6.9%

1,553,452

-6.1%

Cargo and mail carried (000Kg)

118,711

-9.6%

270,676

-9.2%

Number of flights

3,539

-44.5%

10,188

-24.0%
CATHAY PACIFIC / CATHAY DRAGON COMBINED CAPACITY

FEB

% change

Cumulative

%

change

2020

v FEB19

FEB 2020

v YTD19

ASK (000)

- Mainland China

215,972

-76.1%

1,112,666

-42.1%

- North East Asia

1,013,691

-39.4%

2,763,301

-18.2%

- South East Asia

1,062,741

-35.5%

2,929,589

-15.1%

- South Asia, Middle East & Africa

818,109

-21.1%

2,016,316

-10.0%

- South West Pacific

1,592,866

-5.5%

3,609,347

1.0%

- North America

2,447,029

-22.8%

6,018,647

-11.8%

- Europe

1,774,020

-29.3%

4,437,300

-15.4%

ASK Total (000)

8,924,428

-29.3%

22,887,166

-14.1%

Passenger load factor

53.1%

-28.6pt

72.4%

-11.6pt

AFTK Total (000)

1,048,778

-15.1%

2,471,028

-8.6%

Cargo and mail load factor

66.6%

5.8pt

62.9%

1.7pt

ATK (000)

1,897,104

-22.1%

4,646,834

-11.3%