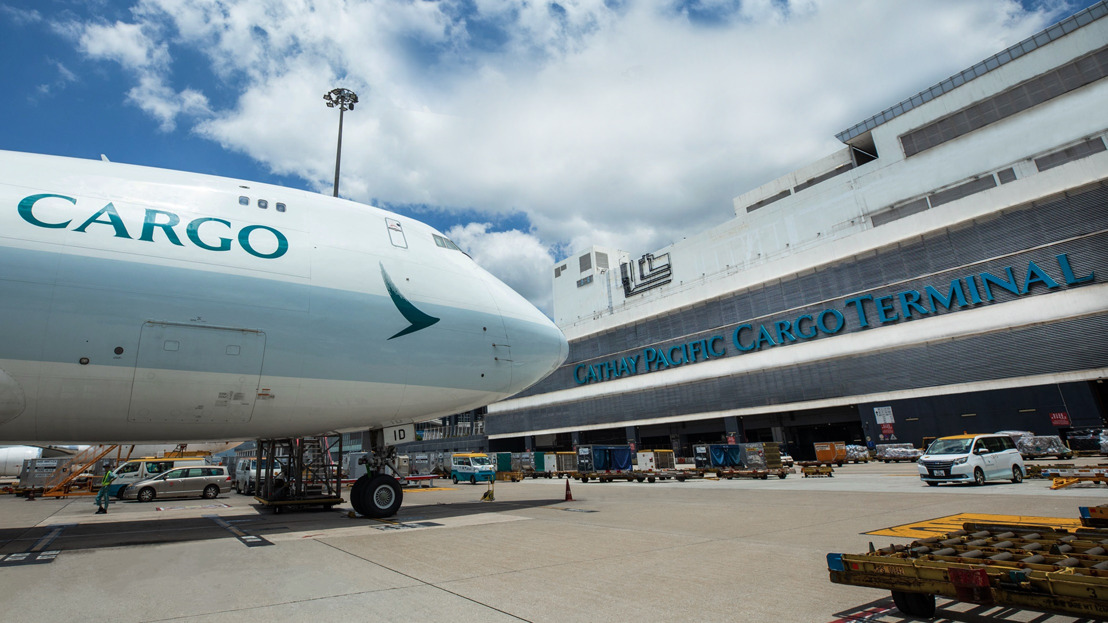 Cathay Pacific Cargo takes the lead on two new Cargo iQ milestones in Hong Kong
The recording of the handover to and from the ramp and the cargo warehouse will bring greater transparency to the cargo journey
Tuesday, August 16, 2022 —

Cathay Pacific Cargo has become one of the first carriers to pioneer two new milestones in the Cargo iQ Master Operating Plan (MOP).

The new milestones, FOW (freight out of warehouse control) and FIW (freight into warehouse control), will bring more transparency to the overall shipment journey in the MOP and better measurement of ground-handling performance in the handover between the ramp operating handlers and the cargo terminal, and vice-versa, for imports and exports, at air waybill (AWB) level. The milestones are now operational at the Cathay Pacific Cargo Terminal in Hong Kong, with a view for roll-out across the network.

Cargo iQ is a not-for-profit membership group supported by IATA composed of major airlines, freight forwarders, ground handling agents, trucking companies and IT providers who work together to bring standardisation and transparency to the air cargo journey.

As part of that, the Cargo iQ MOP, which has been endorsed by IATA as a recommended industry practice, describes the standard end-to-end process of transporting air cargo from shipper to consignee. These two new messaging standards, FIW and FOW, in the end-to-end airfreight shipment journey bring the total number of milestones in the MOP to 20.

Cathay Pacific has had a seat on the Cargo iQ board and has been an active contributor to the working group since it was first established as Cargo 2000, 25 years ago. Today, Cathay's GM Cargo Service Delivery Frosti Lau is on the Cargo iQ board and has helped shape the new developments. 'We are delighted to be an early adopter of these two new milestones because we are dedicated to enhancing the quality control on our handling processes with the accountable parties,' he said. 'That's why we are working closely with our counterparts to launch these milestones so we can better monitor the performance of the handover of shipments between our ramp handling and cargo terminal subsidiaries at Hong Kong International Airport.'

These are the fully owned subsidiaries HAS (Hong Kong Airport Services), and CPSL (Cathay Pacific Services Ltd), which operates the Cathay Pacific Cargo Terminal.

'Information visibility has become a prerequisite in air cargo,' said CPSL Head of Quality Aldous Chung. 'CPSL pursues continuous service enhancement and looks for ways to refine our procedures to enhance the reliability and efficiency of our operations. By implementing the FIW and FOW milestones, we are enhancing the transparency of terminal operations and this will allow us to better measure the performance for continuous improvement.'

Previously, the handover between the ramp and the warehouse needed users to compute the timings based on the ULD handover time taken from the raw data of the warehouse operating system. Now the same system can share that information at air waybill level for every flight. This system enhancement was deployed in May and the FIW and FOW messaging was activated at the start of July.

Cathay Pacific Cargo is now trialling these milestones in its own systems through an interface developed by Global Logistics System (HK) Co Ltd (GLSHK) with a view to using the additional visibility from these milestones to measure and enhance performance to deliver a better service to customers ultimately.

GLSHK CEO Simon Ng added: 'GLSHK keeps investing in and improving the EDMP (Easy Data Management Platform) to support our partner airline, Cathay Pacific, so that it can stay ahead in shipment data-analysis and performance management.'

This is the ultimate aim of the MOP and its milestones: as Laura Rodriguez, Manager Implementation and Quality Assurance at Cargo iQ, explains. 'With this information, the industry will be able to identify pain points and make vital improvements to operational processes,' she says. 'It also gives us, for the first time, the possibility to visualise the complete warehouse process from start to end within Cargo iQ.

'With its commitment to implement these new events, Cathay Pacific and its partners in Hong Kong are reinforcing the value of monitoring the point of handover from warehouse to ramp and vice-versa. We are currently supporting all our members in the implementation of these milestones and we look forward to seeing the benefits of uptake on an industry-wide scale.'

Cathay Pacific Cargo's Lau added: 'Despite the challenges we have faced over the past two years, we can be proud of our record in bringing transparency to the air-cargo industry. This sort of integration is key to progress in the visibility of airfreight and continuous improvement in our performance. We look forward to rolling out these milestones globally and continuing to implement the Cargo iQ milestones with our contracted partners across our network.'

Cathay Pacific

Cathay Pacific is the home airline of Hong Kong, offering scheduled passenger and cargo services to destinations in Asia, North America, Australia, Europe and Africa. Cathay Pacific is one of the world's biggest international air cargo carriers, operating a dedicated freighter fleet to 45 destinations. The airline's cargo division, Cathay Pacific Cargo, operates a fleet of 14 Boeing 747-8F freighters and six 747-400ERFs (Extended Range Freighter). The Cathay Pacific Group also includes Air Hong Kong, an express all-cargo carrier offering scheduled and charter services in Asia. Cathay Pacific is a member of the Swire Group and is listed on the Hong Kong Stock Exchange. Cathay Pacific is committed to achieving net-zero carbon emissions by 2050, including targeting 10% sustainable aviation fuel use for its flights by 2030. For more information, please visit cathaypacific.com.

Cathay Pacific Services Ltd

Cathay Pacific Services Limited (CPSL) is a wholly-owned subsidiary of Cathay Pacific Airways, operating the latest air cargo facility in Hong Kong – Cathay Pacific Cargo Terminal (CPCT). The Terminal provides a full span of air cargo services for airlines operating at Hong Kong International Airport and is capable of handling an annual throughput of 2.6 million tonnes. The Terminal incorporates innovative features and advanced technologies to enhance the visibility, efficiency and reliability of each step of operations, improving the customer experience and creating added value to support their business growth.

About GLSHK

Global Logistics System (HK) Co., Ltd (GLSHK) specialises in digitalising air cargo business processes such as booking, e-AWB exchange, and track & trace for special cargo. Its EzyCargo™ platform connects forwarders to airlines and terminals. Other application platforms connect airlines to customs for advanced cargo information requirements; and to post offices for mail data exchanges. Its worldwide partners include 3,000+ active forwarders, 90-plus airlines, 75-plus post offices and most customs systems.

Cargo iQ

Cargo iQ is a cross-stakeholder organisation working to create and implement quality standards aimed at enhancing the customer service experience of the worldwide air cargo industry. Originally founded by leading airlines and forwarders to improve reliability in the supply chain, Cargo iQ membership has grown to include more than 60 members from across the supply chain during its 25 years of operation. The organisation is supported by IATA as one of its interest groups. The Cargo iQ Master Operating Plan (MOP), which has been endorsed by IATA, defines the standard end-to-end process of transporting air cargo. For more information, visit cargoiq.org.