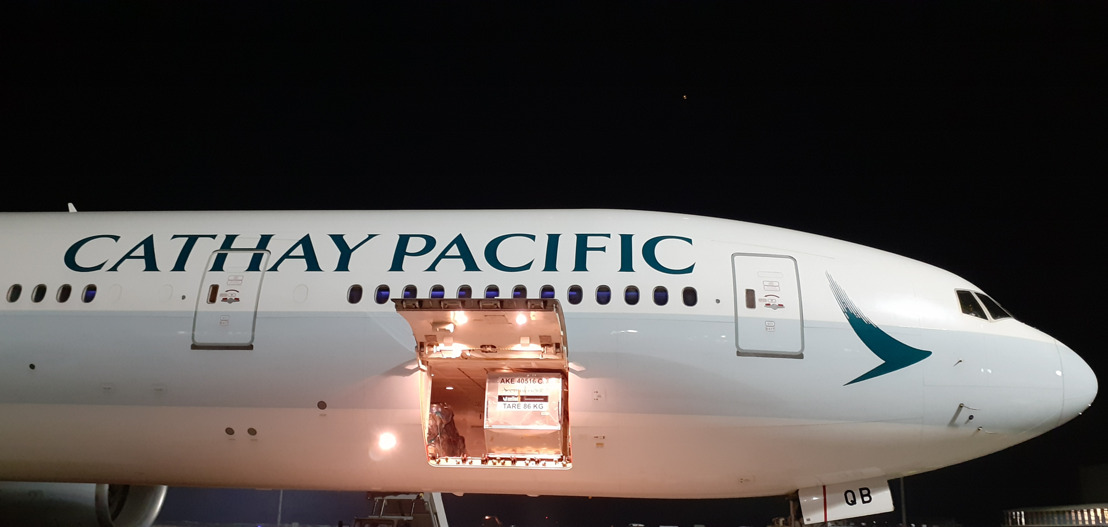 Cathay Pacific Cargo India and EFL Global deliver COVID-19 vaccines to South America
The shipment includes 10,000 vials with total of 100,000 vaccine doses
Thursday 1 April 2021 —

On March 26th, 2021, Cathay Pacific Cargo, a leading global air freight operator, partnered with EFL Global, a leader in supply chain solutions, to uplift a COVID-19 vaccine shipment out of Hyderabad, India. The shipment was uplifted from Rajiv Gandhi International Airport to Paraguay via Miami International Airport. The shipment included 10,000 vials with a total of 100,000 vaccine doses, successfully delivered through the airline's fleet B773ER, a cargo-only passenger flight from Hyderabad to Hong Kong. This was followed by a quick transfer onto Cathay Pacific Cargo freighter B747-8F from Hong Kong to Miami.

The vaccine shipments were assigned a unique handling code "VAC" that denotes a special SOP used for handling and notifying all concerned teams at origin, transit, and destination. This protocol ensures that vaccines are stored within the required consistent temperature ranges of 2-8 degrees Celsius from acceptance to delivery. Crucial steps such as the late release of the shipment from warehouse to airside at origin and an early release from aircraft to warehouse at the destination are taken to minimise exposure and temperature fluctuations. Additionally, priority towing at ramp for all flights was provided to avoid exposure to external conditions.

Mark Sutch, Cathay Pacific Regional General Manager - South Asia, Middle East and Africa, said, "Cathay Pacific Cargo has been serving the Indian market with a robust network and strong product offering and we are happy to be able to support vaccine delivery during this crucial time. Our 'Vaccine Task Force' is well equipped to handle the shipments with utmost care they require and we are sure the success of this delivery will open many new avenues."

Senthilnathan Shanmugam, EFL Global CEO and Managing Director for India, said, "EFL offers a unique hub and spoke solution through its strategic global reach and capabilities, that are in line and supportive of inoculation efforts across continents and geographies. An extensive network in the Indian Subcontinent, pharma vertical experience, expanding reach across the Americas through key gateways like EFL Miami, and key partnerships with the likes of Cathay Pacific Cargo, we stand committed towards a global recovery."

To ensure safe delivery with superior product quality, Cathay Pacific Cargo developed a bespoke solution called the 'Vaccine Task Force.' Cathay Pacific Cargo's Vaccine Solution draws on the best of its products, Pharma LIFT and Priority LIFT, and adds more, including guaranteed priority upload for shipments and the accelerated roll-out of Ultra Track, the new name for the next-generation track-and-trace system, which Cathay Pacific Cargo has been trialling over the past 12 months. Cathay Pacific, along with its subsidiaries Cathay Pacific Service Limited and Hong Kong Airport Service Limited, have also received airport-wide recertification of IATA's CEIV Pharma accreditation at Hong Kong International Airport, offering a complete level of quality assurance at every stage of the import and transhipment journey.