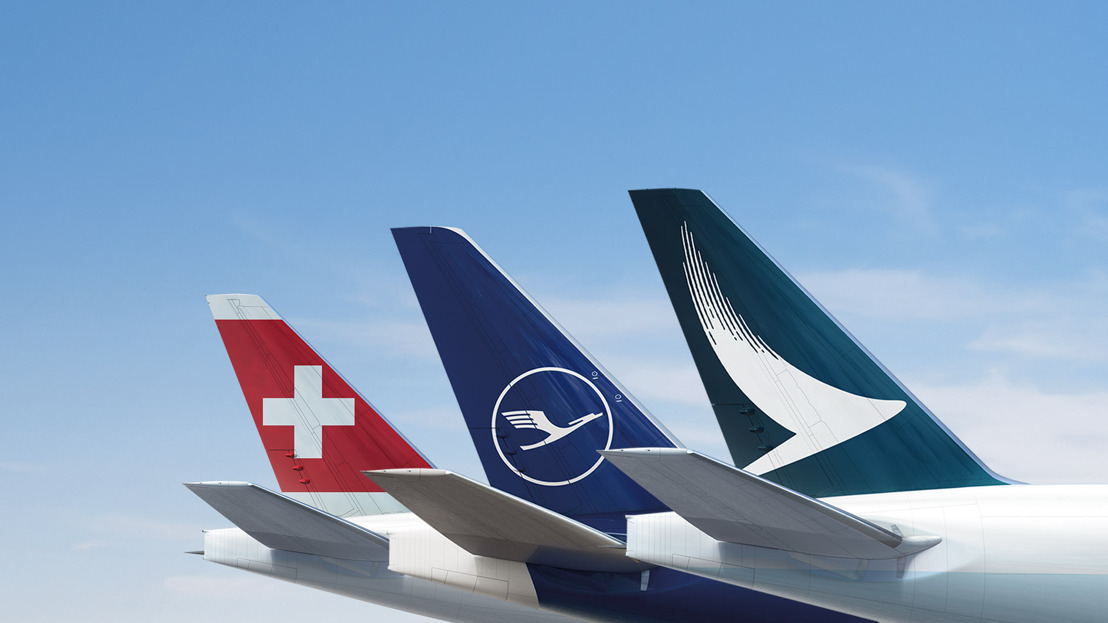 Cathay Pacific and Lufthansa Cargo expand joint business agreement to include Swiss WorldCargo
Providing cargo customers of all three airlines with more choices
Tuesday, May 31, 2022 —

Cathay Pacific and Lufthansa Cargo announce today the entry of Swiss WorldCargo into the airlines' joint business agreement, providing cargo customers with more direct connections, more flexibility and more time saving.

The entry of Swiss WorldCargo builds on the joint business agreement signed in 2016 between Cathay Pacific and Lufthansa Cargo, which enables the two airlines to cooperate in terms of sales, pricing, contracts, and the handling of shipments between Hong Kong and Europe.

Cathay Pacific and Lufthansa Cargo already have a close collaboration on international lanes via their hubs in Hong Kong and Germany, while the handling of cargo in Hong Kong is coordinated under one roof at the Cathay Pacific Cargo Terminal of Hong Kong International Airport.

Under the expanded joint business agreement, Cathay Pacific, Lufthansa Cargo, and Swiss WorldCargo will work closely together on network planning, as well as on sales, IT and ground handling. Initially, the airlines will cooperate on traffic from Hong Kong to Zurich and Frankfurt, with traffic to and from Hong Kong and the rest of Europe planned to be included later this year.

Cargo customers will be able to access the entire joint network via the booking systems of all three partners.

Cathay Pacific Director Cargo Tom Owen said: "We are delighted to welcome Swiss WorldCargo into our joint business agreement. Cathay Pacific is always looking for more ways to give our cargo customers greater choice and more options for shipments whenever they fly their goods with us. The addition of Swiss WorldCargo's flights to the already large combined network of Cathay Pacific and Lufthansa will further bring Hong Kong, the world's busiest air cargo hub, closer to Europe and strengthen one of the world's great trade lanes."

Lufthansa Cargo CEO Dorothea von Boxberg said: "We are very pleased about the trilateral cooperation just starting, bringing three well-known cargo carriers to the table and making our customers an even more attractive offer. Cargo customers will appreciate the opportunities for quicker and easier shipping. The expanded joint venture will generate numerous benefits for our customers because our networks, our hubs and our fleet complement each other effectively."

Swiss International Air Lines Head of Cargo Lorenzo Stoll said: "We are very excited to be entering this joint business agreement between Lufthansa Cargo and Cathay Pacific, thanks to which we can not only strengthen our already close collaboration, but also expand our network offering to our customers, while staying true to our high quality and flexibility."

The joint activities will be carried out in full compliance with all applicable laws, including the competition rules of the European Union and Hong Kong.

About Cathay Pacific

Cathay Pacific is the home airline of Hong Kong, offering scheduled passenger and cargo services to destinations in Asia, North America, Australia, Europe and Africa. Cathay Pacific is one of the world's biggest international air cargo carriers, operating a dedicated freighter fleet to 45 destinations. The airline's cargo division, Cathay Pacific Cargo, operates a fleet of 14 Boeing 747-8F freighters and six 747-400ERFs (Extended Range Freighter). The Cathay Pacific Group also includes Air Hong Kong, an express all-cargo carrier offering scheduled and charter services in Asia. Cathay Pacific is a member of the Swire Group and is listed on the Hong Kong Stock Exchange. The airline recently published its 2021 Sustainability Report that addresses its commitment and progress in the areas of environmental, social and governance. Cathay Pacific is committed to achieving net-zero carbon emissions by 2050, including targeting 10% sustainable aviation fuel use for its flights by 2030. For more information, please visit www.cathaypacific.com

About Swiss WorldCargo

Swiss International Air Lines (SWISS) is Switzerland's largest air carrier. With one of Europe's most advanced and carbon-efficient aircraft fleets, SWISS is a premium airline that provides direct flights from Zurich and Geneva to keep Switzerland connected with Europe and the world. Its division, Swiss WorldCargo, offers an extensive range of airport-to-airport airfreight services for high-value, time-critical and care-intensive consignments. As The Airline of Switzerland, SWISS embodies its home country's traditional values and is dedicated to delivering the highest product and service quality. The company has also committed to the ambitious climate goals of halving its 2019 net carbon dioxide emissions by 2030 and making its operations entirely carbon-neutral by 2050, particularly by promoting the use of sustainable aviation fuels. SWISS is part of the Lufthansa Group and is also a member of Star Alliance, the world's biggest airline network.

About Lufthansa Cargo AG

With a turnover of 3.8 billion euros and a transport performance of 7.2 billion freight ton kilometers in 2021, Lufthansa Cargo is one of the world's leading companies in the transport of airfreight. The company currently employs around 4,200 people worldwide. Lufthansa Cargo's focus is on the airport-to-airport business. The route network covers around 300 destinations in more than 100 countries, using both freighter aircraft and cargo capacity from passenger aircraft operated by Lufthansa, Austrian Airlines, Brussels Airlines, Eurowings Discover and SunExpress, as well as trucks. The majority of the cargo business is handled via Frankfurt Airport. Lufthansa Cargo is pursuing the goal of becoming the world's most sustainable cargo airline. To achieve this, the company relies on state-of-the-art technologies and continuous investments in the area of sustainability. In 2021, important milestones were reached, such as the fleet modernization to an all-B777F fleet and the introduction of completely CO2-neutral freight transport for all customers. In 2022, Lufthansa Cargo plans to successively equip its fleet with Sharkskin technology and expand its Sustainable Aviation Fuel program to further reduce CO2 emissions. Lufthansa Cargo is a wholly owned subsidiary of Deutsche Lufthansa AG and the specialist for the logistics business of the Lufthansa Group.