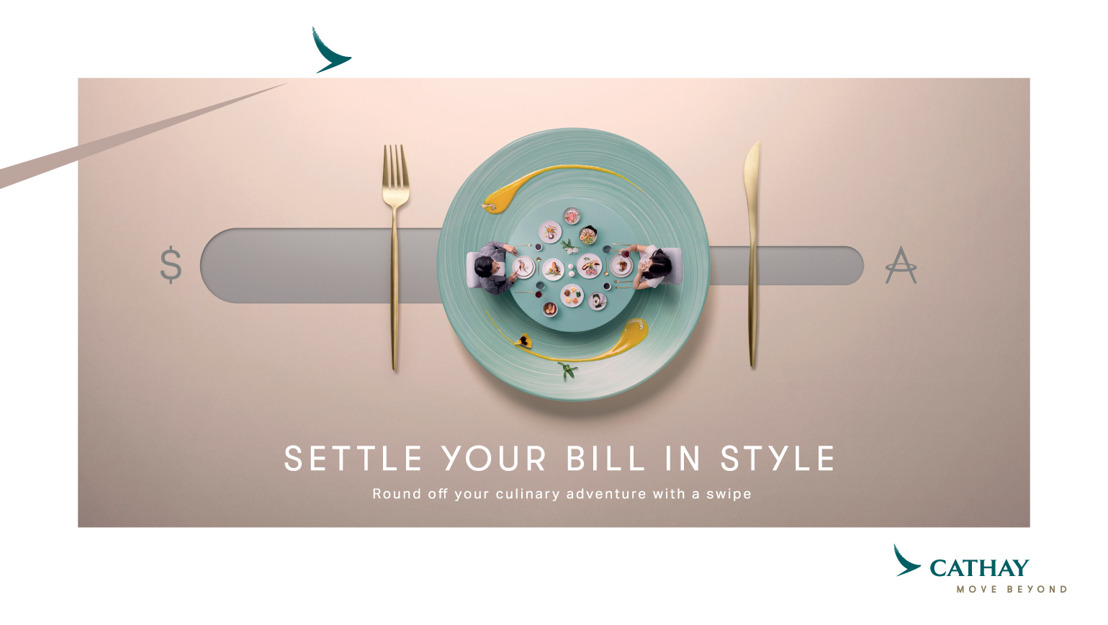 Cathay and OpenRice present a brand new dining and digital payment experience
Members can pay with Miles Plus Cash at partner restaurants, earning up to 3 miles for every HK$4 spent
Wednesday, September 1, 2021 —

Cathay and OpenRice have joined hands to launch a one-stop dining and digital payment experience for foodies among Asia Miles and Marco Polo Club members in Hong Kong. From searching for partner restaurants, to making table reservations and payments, members can complete all in the upgraded Cathay app. And with the flexibility to pay with miles, cash, or Miles Plus Cash, dining payments are more convenient than ever!

Members can simply connect their Asia Miles accounts with their OpenRice accounts, then link their Standard Chartered Cathay Mastercard Credit Cards or other Mastercard or Visa credit cards using the Cathay app. Members will earn one mile for every HK$4 paid with cash when dining at Cathay Partner Restaurants. For those looking to maximise their miles earning, Standard Chartered Cathay Mastercard Credit Card holders can earn up to three miles for every HK$4 paid with cash on Fridays, Saturdays and Sundays. The first 50,000 members can also earn an extra 200 miles on their first Miles Plus Cash transaction.

To enhance the customer experience, Cathay has upgraded its Asia Miles app to the new Cathay app, bringing members an exciting new lifestyle experience that's available right at their fingertips. The Cathay app, on top of previous features, has been upgraded with a series of exciting functions, including the Miles Plus Cash payment method, extending loyalty payments from booking air tickets and shopping for products online to making offline pay-at-table transactions.

Cathay Director Customer Lifestyle Paul Smitton said: "We are delighted to partner with OpenRice to provide our members with seamless dining and digital payment experience complemented by the convenience of using our Miles Plus Cash payment option, offering them even more ways to earn and use miles. We recently launched our new premium travel lifestyle brand, Cathay, which aims to bring our passion for travel into our daily lives. Together with the new co-branded Standard Chartered Cathay Mastercard Credit Cards, this new collaboration gives our customers a new way to enjoy unique and memorable dining experiences."

OpenRice CEO and Acting CTO Joe Yau said: "As a long-term partner, we are excited to introduce OpenRice Pay-at-Table technology into the brand-new Cathay app, making Miles Plus Cash payments available at partner restaurants and offering even greater flexibility to diners. Currently, over 400,000 OpenRice registered members who have already connected their Asia Miles account with the OpenRice app can also use OpenRice Pay to settle dining bills, earn miles and enjoy other instant platform offers. What's more, by showing an OpenRice member QR code, customers may also choose to earn miles when paying with Mastercard or Visa credit cards, or with AlipayHK."

For more details about Cathay's dining programme, please visit: www.cathaypacific.com/cx/en_HK/dining/miles-plus-cash.html
Cathay's Latest Dining Programme:
Throughout the Year
Earn Miles
(Applicable for Portion Paid by Cash)

Use Miles to Pay

HK$4 = 1 mile earned

No minimum spending
Max. HK$10,000 per transaction is eligible for earning miles

Standard Chartered Cathay Mastercard Credit Card holders:

HK$4 = 3 miles* earned at partner restaurants from Friday to Sunday

OpenRice Table Booking:

Earn 25 miles for every attended reservation though OpenRice

OpenRice TakeAway:

Earn 25 miles for every OpenRice TakeAway order of HK$400 or above

*Standard Chartered Cathay Mastercard Credit Card holders can earn HK$4=1 mile for any eligible spending on dining at our partner restaurants, and HK$4=1 mile dining reward when they pay with the card. Moreover, cardholders can earn an additional HK$4=1 mile on Fridays, Saturdays and Sundays that come to a total of HK$4=3 miles.

Minimum Spending: HK$50

Conversion Rate: 1,500 miles = HK$50

Marco Polo Club Members

Silver or above: 10% off
Conversion Rate: 1,350 miles = HK$50

Standard Chartered Cathay Mastercard Credit Card holders:

All card types: 10% off

Conversion Rate: 1,350 miles = HK$50
Promotion Period
The first 50,000 Asia Miles members can earn an extra 200 miles with their first Miles Plus Cash payment.
To celebrate launching the new Cathay dining programme, from 18 August to 30 September, Asia Miles and Marco Polo Club members can enjoy double miles when they dine at a selection of partner restaurants serving different cuisines from around the world. To enjoy the offer, members are required to settle payments with Miles Plus Cash via the Cathay app. Don't miss out!
Please click here for more offer details.
3 Payment Methods Under Cathay's Latest Dining Programme:
Payment Channel

Earn Miles

Use Miles

Supporting Payment Methods

Cathay app

✓

✓

Via Cathay app:

Mastercard
Visa credit card

OpenRice app

✓

(Members need to upgrade OpenRice app to 5.16.0 version by end of Aug)

To be available in Phase 2

Via OpenRice Pay:

Mastercard
Visa credit card
AlipayHK
BoC Pay
Hang Seng Cash Dollars
Apple Pay / Google Pay

Physical Card /
e-Wallet

✓

✕

Present Asia Miles or OpenRice Member QR Code:

Mastercard
Visa credit card
AlipayHK
About Cathay
Cathay is a premium travel lifestyle brand that brings together all we love about travel with our everyday lifestyle. The range of products and services includes flights, hotels, shopping, dining, wellness and credit cards. All our travel lifestyle offerings are designed to bring customers exciting offers, unmissable rewards, meaningful experiences and hand-picked partners.
Flights are provided by Cathay Pacific, the home airline of Hong Kong and a founding member of the oneworld global alliance. The Cathay Group also comprises HK Express, Air Hong Kong (a dedicated freighter airline) and various subsidiaries. We are a member of the Swire Group and are listed on the Hong Kong Stock Exchange (HKSE) as a public company.
For 75 years, Cathay Pacific has been connecting our home city of Hong Kong to the world. Now we're bringing that connection to more of our customers' lives. The new era of Cathay elevates their every bite, swipe, step, stay and flight to greater heights.  www.cathaypacific.com
About OpenRice
Established in 1999, OpenRice is currently the most popular food dining platform in Hong Kong, providing the most comprehensive and updated restaurant information, F&B content and dining services. In recent years, OpenRice is dedicated to digital innovation, expanding from a food review portal and restaurant search engine to an all-encompassing O2O FoodTech services platform. Serving the dining needs of Hong Kong people, the platform connects over 4.3 million registered users and 26,000 restaurants through a one-stop merchant network system with 12 business solutions, including OpenRice Pay dine-in payment, table booking and advanced payment, vouchers, TakeAway, Restaurant Management System (RMS), Recruitment, POS, Remote Queuing, Scan to Order, Market Insights, and Memberships.
OpenRice's online payment system plays a crucial role in the dining eco-system as it supports restaurant offers and payment subsidies across multiple solutions. The newly launched OpenRice Pay has further expanded the payment function from online to offline; it seamlessly continues the dining journey from online table booking to dine-in payment with offers and loyalty rewards, breaking the limitations of traditional card machines. This makes OpenRice Pay more than just payment, but an innovative O2O dining solution.
Based in Hong Kong, OpenRice has also actively expanded into other Asian markets, including Japan, Thailand and Greater China. Table booking service has been extended to Macau, Taiwan, Singapore and Malaysia.