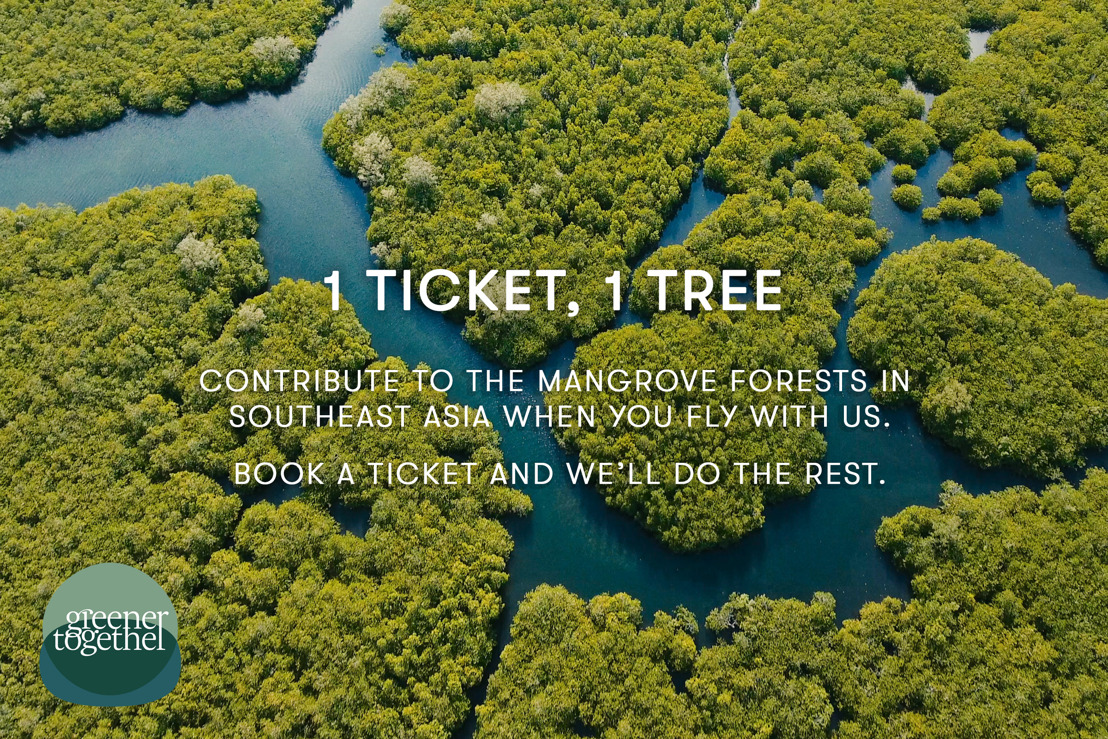 1 Ticket, 1 Tree: Cathay Pacific leads the way to go Greener Together by planting 6,000 mangrove trees in Thailand
Monday, April 24, 2023 —

Cathay Pacific will be planting 20,000 mangrove trees in Southeast Asia this year, to honour its commitment to plant a tree for every flight ticket purchased in the region during the 1 Ticket, 1 Tree campaign held in November 2022. Of these, 6,000 trees will be planted in Thailand.

Fostering stronger partnerships to go "Greener Together" and leading the way towards a more sustainable future is a central theme of Cathay Pacific's sustainability efforts. Aligned with this, the airline is working with local environment and community partners for its tree-planting effort, with the aim of supporting local communities, restoring local habitats and driving climate resilience. Following the pilot run of 1 Ticket, 1 Tree in 2021, the initiative was expanded to the whole of Southeast Asia in 2022, with the airline committing to plant a tree for every ticket purchased from the Philippines, Thailand, Indonesia, Malaysia, Vietnam, Cambodia and Singapore.

Promoting inclusivity on Earth Day

To commemorate Earth Day on 22 April 2023, more than 60 volunteers comprising Cathay Pacific employees, trade agents and other partners gathered in Bang Pu Mangrove Forest, Samut Prakarn, to kickstart the planting of 6,000 mangrove trees. This included eight visually impaired students from the Thailand Caulfield Foundation for the Blind, who also joined in to help with this meaningful effort.

Ms Keri Lui, Cathay Pacific Country Manager for Thailand, said: "We are very excited to be continuing our tree-planting effort in Thailand. In working with our local partners for this initiative, we learnt that people with disabilities are typically excluded from such activities due to their perceived limitations. The future of our planet involves everyone – we hope that including our visually impaired friends would be a small step towards promoting an inclusive society where everyone can be part of the sustainability conversation, and more in the community will be inspired to come together to enact positive change."

Colonel Dit Suyanan, Bangpu Nature Education Centre, said: "Preserving our mangrove forests is not something that we can do alone. It requires a lot of education and effort, and we are very happy to work with like-minded corporate partners such as Cathay Pacific further this cause."

Mr Kruang Sribuapun, Chairman of Caulfield Foundation for the Blind, said: "We are very excited for our students to be part of this meaningful initiative with Cathay Pacific. At the Foundation, we aim to equip our students with skills to help them live independent lives, and be useful members of society. I believe this experience will give them confidence and make them feel proud that they are able to do their part for the environment."

For more information on 1 Ticket, 1 Tree, please visit:

Singapore | Malaysia | Indonesia | Philippines | Cambodia | Thailand | Vietnam


Greener Together: Cathay Pacific's commitment to sustainability leadership

Cathay Pacific strives for leadership and embraces collaboration as it takes major steps towards its sustainability goals, as highlighted in its 2022 Sustainable Development Report, titled "Greener Together". "Greener Together" will also be the theme of the upcoming communications platform for Cathay Pacific's sustainability initiatives.

The airline's 2022 Sustainable Development Report outlines its determination to cooperate and innovate with partners to lead change. Key initiatives include efforts to achieve net-zero carbon emissions by 2050, and using Sustainable Aviation Fuel for 10% of its total fuel consumption by 2030; extending its carbon-offset programme, Fly Greener, to its cargo operations; and significantly reducing the use of single-use plastics. You may read the latest report here.

For more information on Cathay Pacific's commitment to sustainability leadership, please visit our website.