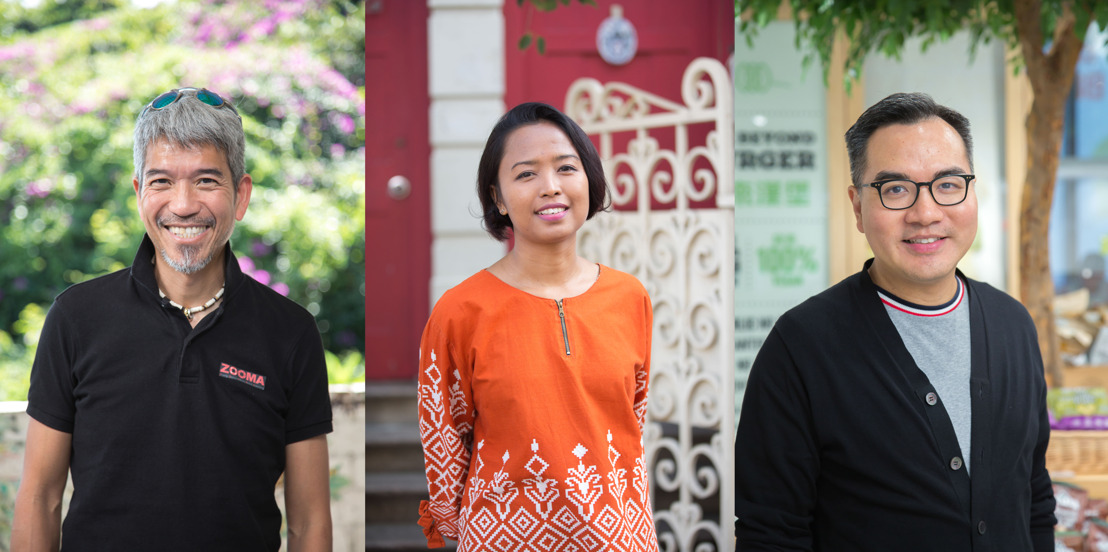 Cathay Pacific supporting change in 2020
Three new Cathay ChangeMakers shine a light on the environment, youth and inclusiveness
Thursday, January 16, 2020 —

Cathay Pacific is bolstering its efforts to give back to society with the announcement of its three new Cathay ChangeMakers for 2020. These forward-thinking individuals have each made significant contributions to environmental protection, youth development and cultural inclusion – three key pillars of the airline's community engagement strategy.

Cathay ChangeMakers provides a platform for thought leaders who are making an important difference in creating a better future. As Hong Kong's home airline, Cathay Pacific helps its ChangeMakers create shared values and deliver positive social change by leveraging its ability to connect them to important people, places and experiences.

Cathay Pacific Chief Executive Officer Augustus Tang said, "We are very excited to announce our new Cathay ChangeMakers for 2020 and we look forward to working with them in tackling important social and environmental issues.

"The Cathay ChangeMakers programme is an innovative way for us to help address the needs of society. These individuals are making an incredible difference in bringing about meaningful change to the world and by opening up opportunities for them to reach a broader audience, it is our hope that their efforts will become truly global."
The 2020 Cathay ChangeMakers
Environmental Protection
David Yeung is an environmental advocate who has helped create sustainable and healthy lifestyles as the co-founder of Green Monday. To date, his Green Monday movement has motivated approximately 1.6 million people in Hong Kong to swap meat for veggies one day a week, and it has already spread to more than 30 countries across the globe. His Green Common grocery stores and restaurants have also introduced pioneering food products such as the plant-based meat substitute, "Omnipork".
Youth development
Dr Alman Chan Siu-Cheuk, the principal of Christian Zheng Sheng College and the founder of School Without Doors, has dedicated himself to providing education to marginalised youths. He has been educating young people for more than 20 years, including those dealing with drug abuse and with behavioural issues. His innovative approach to teaching extends to students' employment and social integration, while his School Without Doors advocates alternative education for reclusive youths.
Cultural inclusion
Eni Lestari Andayani Adi is the founder of the Association of Indonesian Migrant Workers and chairperson of the International Migrants Alliance. She became an advocate for migrant workers' rights after being mistreated by her first employer and now strives to create an inclusive society for migrant workers to enjoy equal respect and opportunities. In 2016, she was invited to speak at the opening ceremony of the first UN Summit for Refugees and Migrants.
Cathay ChangeMakers was launched in 2019 as a way for the airline to pay tribute to thought leaders who are acting as catalysts for positive social change. Each year, Cathay Pacific selects new ChangeMakers regardless of nationality, gender, age or race, and sponsors their flights to support their initiatives that inspire Hong Kong and the world.
Last year saw the first iteration of the initiative with the airline's three inaugural ChangeMakers: Gigi Tung, founder of food rescue and assistance programme, Food Angel; Jeffrey Andrews, a registered social worker serving refugees and ethnic minorities; and Craig Leeson, producer of documentary film "A Plastic Ocean" highlighting plastic pollution in the world's oceans.
Cathay Pacific also cooperated with its ChangeMakers by involving them in its flagship youth aviation and community service education programme "I Can Fly", as well as raising funds via the Marco Polo Club Flight Simulation Auction to support them in bringing their ideas to a wider audience.